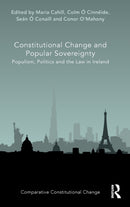 Description
Edited By Maria Cahill, Colm Ó Cinnéide, Seán Ó Conaill, Conor O'Mahony
Published July 16, 2021 by Routledge
334 Pages

Book Description
This collection focuses on the particular nexus of popular sovereignty and constitutional change, and the implications of the recent surge in populism for systems where constitutional change is directly decided upon by the people via referendum.

It examines different conceptions of sovereignty as expressed in constitutional theory and case law, including an in-depth exploration of the manner in which the concept of popular sovereignty finds expression both in constitutional provisions on referendums and in court decisions concerning referendum processes. While comparative references are made to a number of jurisdictions, the primary focus of the collection is on the experience in Ireland, which has had a lengthy experience of referendums on constitutional change and of legal, political and cultural practices that have emerged in association with these referendums. At a time when populist pressures on constitutional change are to the fore in many countries, this detailed examination of where the Irish experience sits in a comparative context has an important contribution to make to debates in law and political science.

Table of Contents
Introduction

Part 1: Sovereignty

Maria Cahill, "Introduction: The Reign of Popular Sovereignty in Ireland – An antidote to populism?"
Laura Cahillane, "The Origins of Popular Sovereignty in Ireland: Theory and Reality"
Michael Kearney, "Self-Determination & the Irish Constitutional Framework"
Eoin Daly, "'Conceptualising popular sovereignty in the Irish constitutional order"
Raphael Girard, "Populism, 'The People' and Popular Sovereignty"
Clara Hurley, "The Relational State: Does the Primacy of Popular Sovereignty Prevent a Feminist Understanding of State Sovereignty?"
Part 2: Referendums and Constitutional Change

Conor O'Mahony, "Introduction to Part 2: Expressing Popular Sovereignty through Constitutional Referendums"
Gavin Barrett, "Modalities and Political Practices Concerning Referendums in Ireland: Some Observations"
Jennifer Kavanagh, "Is the current mechanism for challenging a referendum result suitable for purpose?"
Hilary Hogan, "Democratic Constitutionalism or Elite Control? Revisiting the 2004 Irish Citizenship Referendum"
David Kenny, "The Risks of Referendums: 'Referendum culture' in Ireland as a solution?"
Oran Doyle and Rachael Walsh, "Constitutional Disagreement, Deliberation and Reform: A Counter-Narrative on the Irish Citizens' Assembly"
Alex Layden, "Informal Constitutional Change and Local Government in Ireland"
Colin Harvey, "Popular Sovereignty, Irish Reunification and Change on the Island of Ireland"
Conclusion

Colm Ó Cinnéide, "Conclusion: Irish Popular Sovereignty in Domestic and Comparative Perspective"

Editor(s)
Biography
Maria Cahill is Professor of Law at University College Cork, where she teaches constitutional law, legal reasoning and research methodologies. She has been a Visiting Fellow at the University of Oxford and the University of Melbourne. Her research focuses on constitutional theory, comparative constitutional law and the principle of subsidiarity.

Colm Ó Cinnéide is Professor of Constitutional and Human Rights Law at University College London (UCL). He has published extensively in the field of comparative constitutional, human rights and anti-discrimination law. He has also acted as specialist legal adviser to the Joint Committee on Human Rights and the Women and Equalities Committee of the UK Parliament, and advised a range of international organisations including the United Nations (UN), International Labour Organisation (ILO) and the European Commission.

Seán Ó Conaill teaches dlí bunreachtúil (constitutional law through the medium of Irish) at the School of Law at University College Cork. He teaches and researches in the areas of constitutional law (with a focus on the Irish language) and sports law. He is a frequent contributor to Irish and English language media.

Conor O'Mahony is Professor of Law and Deputy Dean of the School of Law at University College Cork. He teaches and researches in the areas of constitutional law and children's rights. He has published articles on constitutional change particularly on the issues of marriage equality and children's rights, and has been invited to address the Irish Constitutional Convention and Citizens' Assembly.
Contact Us
Contact Us
LegalBooks.ie
Legal & General Shop
The Law Society Building
The Four Courts
Dublin 7
01 8725522
info@legalbooks.ie
D07 N972

VAT number: IE4814267p


Payment & Security
Your payment information is processed securely. We do not store credit card details nor have access to your credit card information.