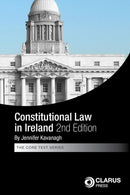 Description
Author: Jennifer Kavanagh
ISBN: 9781911611783
Published: 19/10/2022
Constitutional Law in Ireland, Second Edition is an essential guide to the core
principles and provisions of Irish Constitutional law. This new edition has been fully
updated and revised to bring the reader up-to-date with the latest developments in
constitutional law.
This new edition includes the following:
• A new chapter on the powers of government and the separation of powers which includes analysis of the landmark Supreme Court judgment in Kerins v McGuinness;
• An expanded section on the impacts of Brexit on the constitutional position of Northern Ireland;
• Recent judgments on the powers of government in interregnum periods;
• Expanded analysis of journalistic protection in the wake of the Corcoran case;
• Further analysis of current socio-economic rights issues such as the debate on the position of a right to housing in the constitution;
• Detailed discussion on recent referendums such as Repeal the 8th, removal of blasphemy and time limits for divorce.
Staying faithful to the First Edition the author has designed and written this text with the student in mind introducing and outlining the key principles of Irish constitutional law including the following:
• The constitutional history of Ireland;
• The concepts of the Nation and State with relation to the constitutional
position of Northern Ireland, Ireland in the EU and International Relations;
• A consideration of the doctrine of the separation of powers, the organisation and powers of the organs of government, including the Oireachtas, the Cabinet, the Courts and the President;
• Constitutional Rights including Family, Life, Education and constitutional justice;
• The process of constitutional interpretation, amendment and reform including a consideration of proposed referendums.
Content Includes
• Introduction
• The History of the Irish Constitution
• The Constitutional Powers of Government
• Defining the Nation and State
• The President
• The Oireachtas
• The Electoral Process
• The Executive
• The Judiciary and Access to Justice
• Trial of Offences
• Fundamental Rights and the Constitution
• Civil and Political Rights
• Family, Children's and Education Rights
• Social, Economic and Cultural Rights
• Amending, Interpreting and Reviewing the Constitution
Who Should Buy this Book?
Constitutional Law in Ireland is an excellent introduction to this key area of undergraduate study, and can also be used as an ongoing revision and reference source to provide extra support to students throughout their studies. In addition to this this book will be a valuable resource for legal practitioners and persons interested in getting a comprehensive overview of one of the core subjects of Irish law.
About the Author
Jennifer Kavanagh is a Lecturer in Law in the Department of Law and Criminal Justice in the South East Technological University.
Contact Us
Contact Us
LegalBooks.ie
Legal & General Shop
The Law Society Building
The Four Courts
Dublin 7
01 8725522
info@legalbooks.ie
D07 N972

VAT number: IE4814267p


Payment & Security
Your payment information is processed securely. We do not store credit card details nor have access to your credit card information.