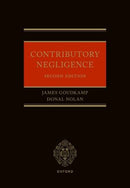 Description
James Goudkamp, Donal Nolan
ISBN13: 9780192867919
Previous Edition ISBN: 9780198814238
Published: August 2023
Publisher: Oxford University Press
Format: Hardback
The doctrine of contributory negligence, which is a cornerstone of private law, is very frequently invoked in practice and also raises a host of pressing theoretical issues. This volume provides legal practitioners and scholars with a clear and comprehensive exposition of the legal principles governing contributory negligence alongside an empirically informed analysis of the way in which the doctrine operates in various recurrent factual scenarios. The doctrinal analysis is supplemented by a consideration of the historical antecedents of the relevant principles and their normative underpinnings. Central to the book are six chapters in which the authors provide an introductory overview of the doctrine; and then proceed to consider its scope; when a finding of contributory negligence will be made; the consequences of such a finding; the relationship between the doctrine and other rules; and matters relating to procedure and appeals. A detailed appendix sets out the discounts imposed for contributory negligence in a range of frequently occurring situations. Although the focus is on the position in the United Kingdom, account is also taken of the case law and literature in several other common law jurisdictions.
New to this Edition:
Introduces new sections to the introductory chapter concerning the history of the contributory negligence doctrine, possible justifications for the doctrine and the place of the doctrine within private law

Provides a new chapter on the scope of the doctrine
Updates material on recurrent factual situations, moving this to an appendix and expanding to include court decisions handed down between 1 January 2018 and 31 July 2022
Contact Us
Contact Us
LegalBooks.ie
Legal & General Shop
The Law Society Building
The Four Courts
Dublin 7
01 8725522
info@legalbooks.ie
D07 N972

VAT number: IE4814267p


Payment & Security
Your payment information is processed securely. We do not store credit card details nor have access to your credit card information.