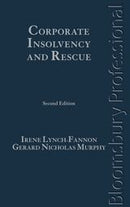 Description
Corporate Insolvency and Rescue
By: Irene Lynch-Fannon, Gerard Murphy
Published: 17-05-2012
About Corporate Insolvency and Rescue
The second edition of this authoritative book examines in detail all the corporate insolvency procedures available in Ireland, including examination, receivership and winding-up. It examines the rights and liabilities of the parties involved in the winding-up process - company directors, shareholders, and secured and unsecured creditors - and also addresses the issue of fraudulent and reckless trading.
Contact Us
Contact Us
LegalBooks.ie
Legal & General Shop
The Law Society Building
The Four Courts
Dublin 7
01 8725522
info@legalbooks.ie
D07 N972

VAT number: IE4814267p


Payment & Security
Your payment information is processed securely. We do not store credit card details nor have access to your credit card information.