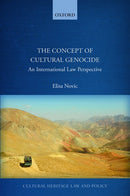 Description
By: Elisa Novic
Published: 20 October 2016
ISBN: 9780198787167
Cultural genocide is the systematic destruction of traditions, values, language, and other elements that make one group of people distinct from another.Cultural genocide remains a recurrent topic, appearing not only in the form of wide-ranging claims about the commission of cultural genocide in diverse contexts but also in the legal sphere, as exemplified by the discussions before the International Criminal Tribunal for the Former Yugoslavia and also the drafting of the UN Declaration on the Rights of Indigenous Peoples. These discussions have, however, displayed the lack of a uniform understanding of the concept of cultural genocide and thus of the role that international law is expected to fulfil in this regard.
The Concept of Cultural Genocide: An International Law Perspective details how international law has approached the core idea underlying the concept of cultural genocide and how this framework can be strengthened and fostered. It traces developments from the early conceptualisation of cultural genocide to the contemporary question of its reparation. Through this journey, the book discusses the evolution of various branches of international law in relation to both cultural protection and cultural destruction in light of a number of legal cases in which either the concept of cultural genocide or the idea of cultural destruction has been discussed. Such cases include the destruction of cultural and religious heritage in Bosnia and Herzegovina, the forced removals of Aboriginal children in Australia and Canada, and the case law of the Inter-American Court of Human Rights in relation to Indigenous and tribal groups' cultural destruction.
TABLE OF CONTENTS
1:Introduction
2:The Concept of Cultural Genocide: a Historical-Legal Perspective
3:The Cultural Dimension of the Crime of Genocide
4:International Law and the Protection of Cultures
5:Beyond Words: From 'Cultural Genocide' to 'Cultural Persecution'
6:State Responsibility for Cultural Crimes
7:Reparation for Intended Cultural Harm
8:Conclusions
Elisa Novic, Senior Research Fellow, Max Planck Foundation for International Peace and the Rule of Law in Heidelberg, Germany
Elisa Novic is a senior research fellow at the Max Planck Foundation for International Peace and the Rule of Law in Heidelberg, Germany. She holds a PhD in Law from the European University Institute (Florence) and Master's degrees in Law and International Relations from the Université Paris I - Panthéon Sorbonne.
Contact Us
Contact Us
LegalBooks.ie
Legal & General Shop
The Law Society Building
The Four Courts
Dublin 7
01 8725522
info@legalbooks.ie
D07 N972

VAT number: IE4814267p


Payment & Security
Your payment information is processed securely. We do not store credit card details nor have access to your credit card information.