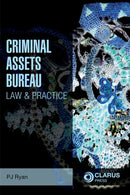 Description
Authors: PJ Ryan
ISBN: 9781911611639
Format: Paperback
Extent: Approx 250 pages
Published: 23 November 2021
Criminal Assets Bureau: Law and Practice explores the development of a different model of criminal justice in Ireland, one that targets the financial base of crime rather than the criminal actor.
The Criminal Assets Bureau (CAB) was established in Ireland in 1996 and is now a central component of the Irish criminal justice system. CAB's unique structure and approach denies criminality of the proceeds of crime without pursuing criminal charges.
Criminal Assets Bureau: Law and Practice provides a comprehensive policy and procedure based analysis of the background and development of the structures underpinning CAB. It goes on to consider the legal framework of CAB, its operational boundaries established through case-law and its multi-agency nature. It is this bringing together of multiple agencies into a single structure to deploy the powers of forfeiture, revenue and social welfare against targets that is key to its prowess.
Criminal Assets Bureau: Law and Practice is the first book to offer a detailed analysis of both the law and the actual outcomes achieved from CAB's operational areas. It is the interplay between these areas, operating in the civil law realm, that makes CAB unique and a transformative model.
Contents Include
Introduction
Chapter 1: Theoretical Foundations of the Modern Criminal Justice Environment
Chapter 2: Criminal Law as an Operational Concept
Chapter 3: Forfeiture and Seizure
Chapter 4: Structure of CAB and Legislative Options
Chapter 5: CAB and Confiscation – The Operational Approach
Chapter 6: CAB and Revenue – The Operational Approach
Chapter 7: CAB and Social Welfare – The Operational Approach
Chapter 8: CAB at 25 Years' Old
Criminal Assets Bureau: Law and Practice will be of benefit to both law and criminal justice scholars and a wide variety of readers interested in governance, societal protection, law, legal reform and policy makers.
About the Author
Dr PJ Ryan is a Lecturer in Law at the new Technological University of the Shannon: Midlands Midwest, having previously lectured at Limerick Institute of Technology.
Contact Us
Contact Us
LegalBooks.ie
Legal & General Shop
The Law Society Building
The Four Courts
Dublin 7
01 8725522
info@legalbooks.ie
D07 N972

VAT number: IE4814267p


Payment & Security
Your payment information is processed securely. We do not store credit card details nor have access to your credit card information.