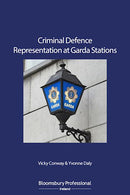 Description
By: Vicky Conway (Author), Yvonne Daly (Author)
Published: 04/2023
Format: Paperback
Edition: 1st
ISBN: 9781526522627
A comprehensive guide to the work and practice of solicitors defending suspects in Garda stations in Ireland. Drawing on research and both national and international law, it explores what the role of the solicitor is in the Garda station, and what role the interview plays in the criminal justice process. It reflects on what the law is, contextualises the law, provides practical guidance on criminal defence at the Garda station and provides examples of how difficulties are overcome.
The book takes an interdisciplinary approach, providing the most comprehensive analysis of the criminal defence process in the Garda station. It outlines the skills necessary to defend suspects in Garda stations, which differs so greatly from court, and takes the practitioner through the entire process from first contact, to deciding to attend to pre-interview consultation. With a focus on dealing with the specific needs of more vulnerable clients before looking at the interview itself, particular attention is paid to the thorny issues of disclosure and the right to silence, before considering some of the more practical dimensions of acting in criminal defence work.
The book is required reading for all criminal defence practitioners, prosecutors, defence barristers and those working in this area. Dr Vicky Conway and Professor Yvonne Daly have provided specialist training in this area to solicitors and Gardai in Ireland through the SUPRALAT training programme and it draws on much of that training for suspect interviews. The SUPRALAT project, funded by the European Union, developed training for criminal defence practitioners on attending police stations. It focuses on advancing the skillset needed for consulting with clients, attending interviews and related work with the concept of active criminal defence at its core. Professor Ed Cape of the University of Bristol, author of Defending Suspects in Police Stations, said: 'The SUPRALAT training programme is the best training for police-station lawyers that I have seen anywhere in the world.'
Beyond practitioners, this book will also be of interest to policy makers, academics and students in the criminal justice space, both domestically and internationally. Not only is increasing attention being paid across Europe to the practice of criminal defence work (the original SUPRALAT training has been built upon by the NEPRALAT network) but there is also increased attention being paid in socio-legal work to the practice of criminal defence representation. With a range of European Directives in this area focused on suspects rights, this work is also hugely relevant in the human rights field.
Table of Contents
Chapter 1: Introduction
Chapter 2: The Law
Right of Access
Treatment in Custody
Chapter 3: Attending the station
Role of the police
Role of the lawyer
Active lawyering
Practical organisation
Legal Aid
Mapping the existing criminal defence practice
Low numbers attending
Sole v firms
On call
Time constraints
Frequency

Chapter 4: Station Skills
The Skills Needed
- communication
- rapport building
- open closed questions
- adjusting language
- assessing understanding
- conflict resolution
- professional values
- reflection
Chapter 5: The Process
First contact
Garda list
Competition
Decision to attend
Relevant Factors
Importance of Attendance
Clients
Arrival
Member in Charge
Disclosure

Chapter 6:The Consultation
Changing purpose
Strategy
What they do
Privacy
Challenges
Phone based
Difficult clients
Voluntary consultations
Chapter 7: Vulnerable Clients
Risk Assessment
Young
Appropriate Adults
Language Barrier
Interpreters
Substance use
Doctors
Mental Health
Other Vulnerabilities
Chapter 8: The Interview
Decision to attend
The importance of attending and representation
Difficult and vulnerable clients
No Comment
Interventions
When and How
The impact
Power dynamics
Threat of ejection
No judge
GSIM
Practicalities
Note-taking
Seating
Laptops and Phone
Trainees
The Code
Dynamic with Clients and Gardaí
First Interview
Voluntary interviews

Chapter 9: Disclosure
Chapter 10: Right to silence
Chapter 11: Lawyering in the Police Station
Garda Space (including powerlessness and visibility)
Stress, Fear and Pressure
Safety
Facilities
Legal Aid
Time wasting
Status and Respect
Impact on Life
Coping
Colleagues
Support
Reflecting
Impact on Work
Departures from the profession
Chapter 12: Analysis
How do lawyers feel about the work?
Negatives
Positives
Fears
Powerlessness
Their role
Active lawyering
What's working / What's not
Consistency
Clarity
Low numbers attending
Changes in the Criminal Justice System
Lack of garda accountability
Chapter 13: Conclusion
Research and reform needed
Appendix
Methodology
Treatment in Custody Regulations
Directives
Contact Us
Contact Us
LegalBooks.ie
Legal & General Shop
The Law Society Building
The Four Courts
Dublin 7
01 8725522
info@legalbooks.ie
D07 N972

VAT number: IE4814267p


Payment & Security
Your payment information is processed securely. We do not store credit card details nor have access to your credit card information.