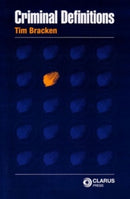 Description
Author: Tim Bracken (Author)
Format: Paperback / softback 453 pages
Publisher: Clarus Press Ltd
ISBN: 9781905536290
Published: 1 Jan 2010
Criminal Definitions Press designed as a legal tool for Irish criminal law practitioners. The criminal law in Ireland is almost completely statutory based and sometime searching for an exact definition, a particular source or a point can be time consuming even with electronic resources. In the Criminal Law Code there are hundreds of definitions, some of which are particular to a section of an Act and some which are particular to the whole Act.
The definitions by and large are not generic so a definition in one Act will not be applicable in another Act. The purpose of this book is to provide the practitioner with instant access to definitions, be it legal counsel in court who requires a definition "at the drop of a hat" or the solicitor in his office who is discussing a matter with a client needs to find a definition at the turn of a page. is a new work from Clarus Criminal Definitions friendly style which will make access and sourcing definitions in the Criminal Code easy and efficient.
Contact Us
Contact Us
LegalBooks.ie
Legal & General Shop
The Law Society Building
The Four Courts
Dublin 7
01 8725522
info@legalbooks.ie
D07 N972

VAT number: IE4814267p


Payment & Security
Your payment information is processed securely. We do not store credit card details nor have access to your credit card information.