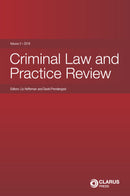 Description
Product Description
Editors: Liz Heffernan and David Prendergast
ISBN : 9781911611226
Format and Price: Paperback €59
Publication Date: 21 November 2018

About
The Criminal Law and Practice Review (formerly the Criminal Law and Procedure Review) is a law journal from Clarus Press in collaboration with the School of Law, Trinity College Dublin. Originally based on the Criminal Law Update conference held annually in Trinity College, the revamped Criminal Law and Practice Review includes article versions of the papers presented at the conference, along with new articles and notes on recent developments in substantive and procedural criminal law.
Contact Us
Contact Us
LegalBooks.ie
Legal & General Shop
The Law Society Building
The Four Courts
Dublin 7
01 8725522
info@legalbooks.ie
D07 N972

VAT number: IE4814267p


Payment & Security
Your payment information is processed securely. We do not store credit card details nor have access to your credit card information.