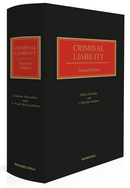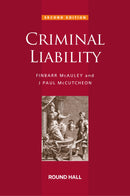 Description
By: Finbarr McAuley, J. Paul McCutcheon
ISBN: 9780414072152
Previous Edition ISBN: 1858001552
To be Published: Dec/2022
Publisher: Round Hall Press
Format: Hardback
This work provides a systematic treatment of the general principles of criminal liability. Topics covered include the origins, elements and forms of criminal liability; the incidents of criminal fault; the architecture of criminal offences; the excuses and justifications offered as defences to a criminal charge; and the role of codification. Distinctive features include its strongly historical approach; attention to the underlying grammar of criminal liability; extensive use of comparative materials; and recourse to the philosophical and psychological literature in the elucidation of key concepts.
The second edition brings the work fully up to date, incorporating the changes in legislation and case law that have accumulated in the more than 20 years since the first edition. The new edition also includes an assessment of the significance of Draft Criminal Code and Commentary, published in 2010, for the analysis of criminal liability, as well as the extensive work of the Law Reform Commission on the substantive criminal law over the last two decades.
The Authors
Finbarr McAuley is Professor Emeritus of Law at University College Dublin.
Paul McCutcheon is Professor of Law at the University of Limerick.
Contact Us
Contact Us
LegalBooks.ie
Legal & General Shop
The Law Society Building
The Four Courts
Dublin 7
01 8725522
info@legalbooks.ie
D07 N972

VAT number: IE4814267p


Payment & Security
Your payment information is processed securely. We do not store credit card details nor have access to your credit card information.