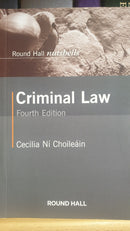 Description
Author : Cecilia Ni Choileain
Publisher: Round Hall
Publication Date: 08/08/2013
ISBN: 9780414061729
Jurisdiction: Ireland

*An ideal means for students to revise all of the essentials of Criminal law in a comprehensive and concise manner.
*Contains new chapters on Money Laundering and related offences; Drug offences; and offences of Corruption
*Public Order Offences now include this newly created offences pertaining to begging
*Non-Fatal Offences Against the Person now also includes offences involving Female Genital Mutilation
*Defence of Insanity includes the emerging case-law on Diminished responsibility.
Contact Us
Contact Us
LegalBooks.ie
Legal & General Shop
The Law Society Building
The Four Courts
Dublin 7
01 8725522
info@legalbooks.ie
Payment & Security
Your payment information is processed securely. We do not store credit card details nor have access to your credit card information.