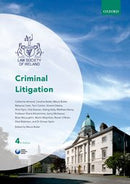 Description
Criminal Litigation

Fourth Edition

Edited by Maura Butler

Law Society of Ireland Manuals

Criminal Litigation offers a detailed, step-by-step overview of the criminal justice process, taking readers through the Irish criminal justice system in a sequential manner that reflects the journey of an accused person from arrest to case cessation
Written by authors from both prosecution and defence who daily find themselves at the coalface of criminal advocate practice, the manual focuses on the implementation of legislation and case law in a real world practitioner environment, helping students make the transition from theoretical criminal law to the realities of practice
The manual is a comprehensive reference guide for trainee solicitors and practitioners alike: it incorporates and normalises regulatory crime into general criminal litigation practice, extending its coverage to European perspectives, client care in the context of the management of a criminal practice, and solicitor advocate skills
New to this Edition:

Extensively revised existing chapters and a new chapter on victims' rights in Ireland, incorporating the Victims' Rights Directive
Covers recent changes with respect to advising advising clients in Garda custody, forensic and DNA evidence, bail application processes and suspended sentences
 
Criminal Litigation is a comprehensive guide to the criminal justice process in Ireland and its evidential and procedural rules. It profiles the obligations of the state and the rights of the accused at all stages of the trial process for summary and indictable crime, at all court levels, in a framework that reflects the criminal justice process from arrest to trial and beyond. Effective practice knowledge is linked with regulatory crime, juvenile justice, road traffic offences, the ECHR, and European Arrest Warrants.

The book's content has been extensively revised for the fourth edition, and it now includes a new chapter on victims' rights in Ireland, incorporating the Victims' Rights Directive. It also takes into account recent changes with respect to advising clients in Garda custody, forensic and DNA evidence, bail application processes and suspended sentences. Criminal Litigation is essential reading for trainee solicitors studying this subject on the Professional Practice Course and an excellent resource for Irish legal practitioners and other actors in the criminal justice system.
 
Table of Contents

Part I - Introduction and Universal Principles
1: Introduction to criminal litigation practice and procedure
2: Regulatory crime
3: Developments in victims' rights in Ireland
Part II - Investigation of Crime - Rights and Obligations
4: The criminal investigation - prosecution perspectives
5: The arrested person in custody - defence perspectives
Part III - Process and Initial Applications
6: Process and procedure in the commencement of proceedings
7: Bail
8: Legal aid, adjournments and remands
9: Juvenile justice
Part IV - Applied Evidence and Trial Procedure
10: Application of evidential rules
11: Conduct of summary trials
Part V - Trial Venue and Indictable Offences
12: Reasons influencing choice of venue in the undertaking of criminal prosecutions
13: Proceedings related to indictable offences
Part VI - Sentencing, Road Traffic Offences, Appeals and Judicial Review
14: Sentencing
15: Road traffic offences
16: Appeals and judicial review
Part VII - European Court of Human Rights and European Arrest Warrant
17: The impact of the European Convention on Human Rights on Irish criminal litigation practice
18: The European Arrest Warrant
Part VIII - Practice Skills and Management
19: The skills of the criminal advocate
20: Managing a criminal litigation practice
 
dited by Maura Butler, Solicitor and Course Manager for Criminal Litigation, Criminal Advocacy and Corporate Crime, Law Society of Ireland

Maura Butler, BA (Legal Science), LLB, Dip EL, Dip Criminological Studies, MSc IT Education, qualified as a solicitor in 1985 and practised as a criminal defence advocate. She is the course manager for Criminal Litigation, Criminal Advocacy and Corporate Crime at the Law Society of Ireland.

Contributors:
Catherine Almond
Caroline Butler
Maura Butler
Rebecca Coen
Tom Conlon
Vincent Deane
Áine Flynn
Orla Keenan
Aisling Kelly
Matthew Kenny
Professor Shane Kilcommins
Jenny McGeever
Brian McLaughlin
Moirin Moynihan
Ronan O'Brien
Dara Robinson
Dr Eimear Spain
Contact Us
Contact Us
LegalBooks.ie
Legal & General Shop
The Law Society Building
The Four Courts
Dublin 7
01 8725522
info@legalbooks.ie
D07 N972

VAT number: IE4814267p


Payment & Security
Your payment information is processed securely. We do not store credit card details nor have access to your credit card information.