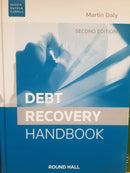 Description
Author : Martin Daly
Publisher: Round Hall
Publication Date: 12/12/2017
ISBN: 9780414065161

The new edition of the Debt Recovery Handbook provides practitioners with a straightforward and practical guide to the debt recovery process, which has seen major change in the last 10 years. The book covers new court rules, legislative changes, important judgments as well as the impact of the Personal Insolvency Act and new bankruptcy rules.

A legal practitioners guide to all stages of the debt recovery litigation process ? from taking instructions through to defended cases and enforcement of judgments.

Contents include:

*New District Court Rules introduced in Ireland since the first edition of the Debt Recovery Handbook published in 2009
*The landmark Land and Conveyancing Law Reform Act 2009 enacted since the first edition of the Debt Recovery Handbook which, amongst other changes, has simplified the judgment mortgage procedure
*The impact of the important case Muintir Skibbereen Credit Union v Crowley and Muintir Skibbereen Credit Union v Hamilton [2016] IECA 213 on judgment mortgages
*The old instalment order and attachment/committal process, declared unconstitutional in 2009 overhauled by the Enforcement of Court Orders (Amendment) Act 2009
*Coverage of the major change in the areas of personal insolvency and bankruptcy
*Courts Act 1981 (Interest on Judgment Debts) Order 2016, which has reduced the rate of judgment interest from 1 January 2017

About the author

Martin Daly is a solicitor with particular experience in debt recovery litigation, enforcement and security realisation for business and banking clients. Prior to joining Mason Hayes & Curran, Martin worked in the debt recovery legal unit of a major Irish bank.
Contact Us
Contact Us
LegalBooks.ie
Legal & General Shop
The Law Society Building
The Four Courts
Dublin 7
01 8725522
info@legalbooks.ie
D07 N972

VAT number: IE4814267p


Payment & Security
Your payment information is processed securely. We do not store credit card details nor have access to your credit card information.