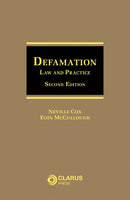 Description
Authors: Neville Cox and Eoin McCullough
ISBN: 9781911611615
Format: Hard Back
Publishing Oct/2021
About
Defamation: Law and Practice, Second Edition, provides an in-depth analysis and comprehensive coverage of defamation law in Ireland including coverage of substantive and procedural law. This second edition is fully revised, expanded and updated to include all recent developments in Irish defamation law. It contains analysis of all the elements of the tort of defamation, defences to a defamation action, damages and other reliefs, the application of human rights law in the context of defamation, the application of practice and procedure rules in defamation cases and a body of useful precedents.
This new edition includes:
An in-depth analysis of the important recent developments in relation to damages in defamation cases both in the Irish courts and the European Court of Human Rights including the Supreme Court decision in McDonagh v Sunday Newspapers Ltd and the ECHR decision in Independent Newspapers (Ireland) Ltd v Ireland;
An examination of the statutory 'offer to make amends' defence and the approach and role of both the judge and jury including the Supreme Court decision in Higgins v Irish Aviation Authority ;

An examination of the application of defamation actions in relation to social media publications and other forms of internet communications;

 An exploration of possible reforms of Irish defamation law, the pitfalls and challenges that lay ahead.
Defamation: Law and Practice , Second Edition provides an in-depth analysis and comprehensive coverage of defamation law in Ireland including substantive and procedural law and is Ireland's leading text on defamation law having been cited several judgments in the superior courts in Ireland.
Contents Include
Chapter 1: Introduction to Irish Defamation Law
Part I: The Elements of the Tort of Defamation
Chapter 2: Publication
Chapter 3: Meaning
Chapter 4: Identification
Part II: Defences in a Defamation Case
Chapter 5: Truth
Chapter 6: Honest Opinion
Chapter 7: Absolute Privilege
Chapter 8: Qualified Privilege
Chapter 9: Defences for Public Interest Publications
Chapter 10: Miscellaneous Defences
Part III: Available Reliefs
Chapter 11. Damages
Chapter 12: Alternative Forms of Relief
Part IV: Practice and Procedure
Chapter 13. Practice and Procedure
Appendix: Precedents
Who Should Buy This Book?
Defamation: Law & Practice, Second Edition is a definitive and leading work on defamation law in Ireland and is utilised by leading legal professionals working within this practice area.
About the Authors
Dr Neville Cox LL.B., Ph.D., F.T.C.D. is the Dean of Graduate Studies at Trinity College Dublin and is a practising barrister and is author of several publications including
Eoin McCullough SC has practised extensively in defamation and related areas.
Contact Us
Contact Us
LegalBooks.ie
Legal & General Shop
The Law Society Building
The Four Courts
Dublin 7
01 8725522
info@legalbooks.ie
D07 N972

VAT number: IE4814267p


Payment & Security
Your payment information is processed securely. We do not store credit card details nor have access to your credit card information.