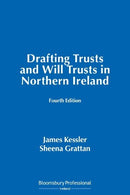 Description
By: James Kessler, Sheena Grattan
Published: 13-08-2020
Format: Paperback
Edition: 4th
Extent: 896
ISBN: 9781526507976
About Drafting Trusts and Will Trusts in Northern Ireland
Legal, tax and accountancy practitioners will find this accessible book truly indispensable. It supplies the tools and instructions that will help you build watertight trusts and will trusts in Northern Ireland. This superb book allows you to draft crisp, accurate legally binding trusts and will trusts with the minimum of research.

Benefit from:
- The practical precedents - use these to create accurate trusts and will trusts time after time;
- The latest legislation - everything you need to know on Northern Ireland law and tax law;
- All you need to know on trustees - the role and responsibilities, plus how to appoint somebody;
- Key financial advice on stamp duty transactions;
- A vast amount of knowledge and experience from two leading experts in this field.

The main legislative change since the last edition published in 2013 has been the introduction of the complex residence nil rate band which will be covered comprehensively. Practitioners who have little involvement with inter vivos trusts will find this book invaluable for the will drafting chapters. Another important legislative change since the publication of the last edition is the Charities Act (NI) 2013 which clarified the public benefit test and which is also covered in detail in this new edition.
Chapter 1: The Raid on Trusts
Chapter 2: First Principles
Chapter 3: Style
Chapter 4: Principles of Interpreting Trust Documents
Chapter 5: Beneficiaries
Chapter 6: Executors and Trustees
Chapter 7: Trustees' Powers
Chapter 8: Trust Property
Chapter 9: The Rule Against Perpetuities
Chapter 10: General Provisions of a Trust
Chapter 11: Drafting Overriding Powers (Appointment, Resettlement and Advancement)
Chapter 12: Exercising Overriding Powers
Chapter 13: Settlor Exclusion and Default Clauses
Chapter 14: Lifetime Interest in Possession Trusts
Chapter 15: Discretionary Trusts
Chapter 16: Provisions Inconsistent with IP and IHT Special Trusts
Chapter 17: Types of Will Trusts
Chapter 18: Will Drafting
Chapter 19: Administration of General Nil Rate Band Trusts
Chapter 20: Wills and Care Fee Planning
Chapter 21: Administrative Provisions
Chapter 22: A Miscellany of Northern Ireland-Specific Trust Concerns
Chapter 23: Bare Trusts
Chapter 24: Trusts of Life Insurance Policies
Chapter 25: Trusts of Pension Death Benefits
Chapter 26: Charitable Trusts
Chapter 27: Disaster Appeal Trusts
Chapter 28: Trusts of Damages
Chapter 29: Trusts for Disabled Beneficiaries
Chapter 30: Governing Law, Place of Administration and Jurisdiction Clauses
Chapter 31: Restricting Rights of Beneficiaries
Chapter 32: Execution of Wills and Trust Documents
Chapter 33: Appointment & Retirement of Trustees
Chapter 34: Indemnities for Executors and Trustees
Chapter 35: The STEP Standard Provisions
Contact Us
Contact Us
LegalBooks.ie
Legal & General Shop
The Law Society Building
The Four Courts
Dublin 7
01 8725522
info@legalbooks.ie
D07 N972

VAT number: IE4814267p


Payment & Security
Your payment information is processed securely. We do not store credit card details nor have access to your credit card information.