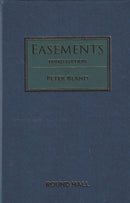 Description
Author : Peter Bland
Publisher: Round Hall
Publication Date: 31/12/2015
ISBN: 9780414050648
Jurisdiction: Ireland

The new edition of Easements provides a comprehensive and definitive analysis of this notoriously complex area of the law

New to this edition
* Features the amendment of the Land and Conveyancing Law Reform Act, 2009 in an attempt to postpone the application of the new model of prescription
* Explains the procedure for registration of prescriptive easements and profits introduced by section 49A of the Registration of Title Act, 1964
* A new chapter has been added on registration
* Focuses on the expanding area of utility wayleaves
* Incorporates the new cases since 2009
* The scheme of the book has been revised and reordered

Contents
* The Nature of an Easement
* The Nature of a Profit a Prendre
* Acquisition by Statute
* Acquisition by Express Grant or Reservation
* Acquisition by Implication of Law
* Acquisition by Prescription
* Easements and Profits in Equity
* Registration
* Rights of Way
* Rights of Parking
* Rights of Support
* Party Structures
* Rights to Light and Air
* Water
* Rights of Conduit
* Turbary, Estovers and Rights in the Soil
* Rights of Pasture
* Fishing and other Sporting Rights
* Extinguishment by Statute
* Extinguishment by Release
* Extinguishment by Operation of Law
* Judicial Remedies
* Extra Judicial Remedies
* Public rights

Author
Peter Bland is a senior counsel who specialises in real property.
Contact Us
Contact Us
LegalBooks.ie
Legal & General Shop
The Law Society Building
The Four Courts
Dublin 7
01 8725522
info@legalbooks.ie
D07 N972

VAT number: IE4814267p


Payment & Security
Your payment information is processed securely. We do not store credit card details nor have access to your credit card information.