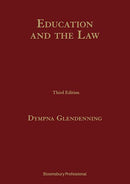 Description
Published: April/2023 

Format : Hardback 

Edition: 3rd

ISBN: 9781526514417 

Imprint: Bloomsbury Professional 

Dimensions: 248 x 156 mm 

Publisher: Bloomsbury Publishing 
Legal issues encroach into almost every aspect of modern day education in Ireland.

This third edition of Education and the Law has been completely updated since its last edition in 2012. It examines in detail recent key legislation including the Education (Admissions to School) Act 2018 and the Data Protection Act 2018. It has also been restructured for ease of use and reference.

An essential title, it examines the legal issues surrounding teaching and education, such as tortuous liability for injuries to teachers and students, the employment of teachers, school discipline, bullying, freedom of information, and the State's responsibility for educating children with special educational needs. 

Membership of the European Union has also resulted in many changes arising from the principles of free movement, non-discrimination and the common vocational training policy. These developments, as well as the key legislation (including the Education Act 1998, the Education (Welfare) Act 2000, the Education for Persons with Special Educational Needs Act 2004 and the Disability Act 2005) are examined in detail. 

Education and the Law also takes an historical look at the legal aspects of the education system in Ireland, and it traces the distinctive development of the Irish education system but it also looks at the future direction of education in Ireland and at the likely impact of equality law, human rights law and membership of the enlarged European Community on Ireland's largely denominational education system.
Table of Contents
1. Introduction and Definition of Terms;
2. Historical Legacy: The School Patron model evolves;
3. Contemporary Education: A System in Flux;
4. Constitutional Provision for Education;
5. Legislating for a mainly Denominational System of Education;
6. Local Authority Education: Education and Training Board Schools;
7. Provision for Special Educational Needs and Disability;
8. Child Protection Legislation;
9. Teacher Regulation and Teaching Standards;
10. Employment Law and Teachers;
11. Data Protection Law and Schools;
12. International Human Rights Law and Education;
13. Conclusion and Recommendations.
Contact Us
Contact Us
LegalBooks.ie
Legal & General Shop
The Law Society Building
The Four Courts
Dublin 7
01 8725522
info@legalbooks.ie
D07 N972

VAT number: IE4814267p


Payment & Security
Your payment information is processed securely. We do not store credit card details nor have access to your credit card information.