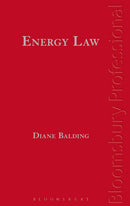 Description
Published: Abandoned 
Edition: 1st
ISBN: 9781847667113


About Energy Law:

Within a legal context and having regard to climate change and security of energy supply, the book defines energy, identifies its sources and examines its associated networks and categorises the sources of energy law in Ireland.

It also scrutinises the legal aspects of the constituent elements of energy projects both renewable and non-renewable.

In addition, the book explores all issues that are peripheral but necessary adjuncts to an energy project for example, economics of energy, competition law and dispute resolution.

Table Of Contents
1. Overview
2. Electricity
3. Hydrocarbons
4. Oil
5. Gas
6. Coal
7. Nuclear Energy
8. Renewables
9. Energy Efficiency
10. Emissions
11. Market Dynamics
Contact Us
Contact Us
LegalBooks.ie
Legal & General Shop
The Law Society Building
The Four Courts
Dublin 7
01 8725522
info@legalbooks.ie
D07 N972

VAT number: IE4814267p


Payment & Security
Your payment information is processed securely. We do not store credit card details nor have access to your credit card information.