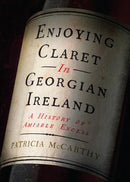 Description
By: Patricia McCarthy
Hardback 
ISBN: 9781801510134
Published: April 2022.
This book looks at Ireland's love affair with claret, which began in earnest with the establishment of Irish families in the wine trade in Bordeaux in the early eighteenth century. So much red wine from Bordeaux was being consumed by Ireland's nobility and gentry that Jonathan Swift referred to it as 'Irish wine', in the full knowledge that his correspondent would understand that he meant claret. One writer observed that 'drinking had become so fashionable, that gentlemen competed eagerly to have the largest cellar and spend the most on hogsheads of wine every year', and claret was the wine of choice. At Dublin Castle the amount of wine consumed was prodigious: it was acknowledged by all that balls, dinners and the contents of the Castle's cellars played a major part in the popularity of the lord lieutenant and indeed resulted in the premature death of one. Not surprisingly, gout – referred to as 'the Irish hospitality' by one observer - was rampant and some of the rather bizarre 'cures' suggested are discussed. The book deals with questions such as how was the domestic wine cellar planned and used? When did connoisseurship in wine commence? What was the role of the merchant, apart from providing the wine?  On the domestic front, to what lengths did men go in purchasing the many fashionable wine accoutrements used in the traditionally 'male' dining room? Why did 'toasts' figure so prominently, not just at dinner parties in mixed company, but particularly among male groups in clubs and associations?  The 'Irish Wine' trade fostered not only a reputation for excessive conviviality, but created a healthy profit for its merchant importers.
Patricia McCarthy is an architectural historian and author of 'A Favourite Study' Building the King's Inns (Dublin, 2006), and Life in the Country House in Georgian Ireland (Yale University Press, 2016).
Contact Us
Contact Us
LegalBooks.ie
Legal & General Shop
The Law Society Building
The Four Courts
Dublin 7
01 8725522
info@legalbooks.ie
D07 N972

VAT number: IE4814267p


Payment & Security
Your payment information is processed securely. We do not store credit card details nor have access to your credit card information.