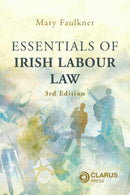 Description
Product Description
Author: Mary Faulkner  | ISBN: 978-1-905536-95-5  | Format: Paper Back
Price: €45  | Published: 23 October 2018
About
Essentials of Irish Labour Law, 3rd Edition, is a bestselling comprehensive textbook on Irish labour law. This edition is fully updated and revised to reflect all the major legislative and case law changes in labour law in Ireland.
New developments in Third Edition include:
Reforms of the State's industrial relations structures under the Workplace Relations Act 2015;
Protected Disclosures Act 2014 on workplace whistleblowing;
Landmark CJEU case (Achbita) on employees wearing visible political or religious symbols while at work;
The

 

Uber

 

case and the definition of 'employee';
Developments in the law on employment permits;
Mandatory retirement ages;
The law on Industrial Relations;
Recent Supreme Court, Court of Appeal and High Court decisions.
 
Essentials of Irish Labour Law, 3rd Edition, provides an historical context to labour law with particular reference to the Constitution, EU law, common law, international conventions, the labour market and unions. This book examines the various legal structures and regulatory frameworks – domestic and European – that underpin determinations and decisions made in relation to labour law.
Essentials of Irish Labour Law, 3rd Edition, presents and evaluates the nature of employment contracts, conditions of employment, and termination of employment with details of legislation and relevant recent case law.
Issues such as safety, health and welfare at work, equality legislation and terms and conditions of employment legislation are detailed throughout the text.
 
Contents include:
Sources
Regulatory Framework
Terms
Safety, Health and Welfare
Bullying and Stress
Leave
Equality
Termination
Industrial Relations
Who Should Buy This Book?
This book will be an invaluable resource for law students studying employment or labour law as well as students taking labour law as part of a non-law programme. This book will be of great interest to all persons working in, or interested in, Human Resources, Industrial Relations, Management, Trade Unions or for those employees who have a representative function.
About the Author
Mary Faulkner, BA, HDipEd, Dip Arbitration, Barrister-at-Law, is an established author and has over 25 years' experience in lecturing, research and course design at third level in the area of labour law.
Contact Us
Contact Us
LegalBooks.ie
Legal & General Shop
The Law Society Building
The Four Courts
Dublin 7
01 8725522
info@legalbooks.ie
D07 N972

VAT number: IE4814267p


Payment & Security
Your payment information is processed securely. We do not store credit card details nor have access to your credit card information.