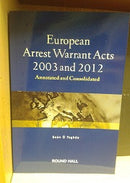 Description
Author : Sean O'Toghda
Publisher: Round Hall
Publication Date: 11/12/2013
ISBN: 9780414033061
Series: Annotated and Consolidated
Jurisdiction: Ireland

The European Arrest Warrant Act 2003 was enacted to give effect to the Council Framework Decision of June 13, 2002 on the European Arrest Warrant and the
surrender procedures between Member States. The European Arrest Warrant Act 2003 has since been amended by the Criminal Justice (Terrorist Offences) Act 2005, the Criminal Justice (Miscellaneous Provisions) Act 2009 and the European Arrest Warrant (Application to Third Countries and Amendment) and Extradition (Amendment) Act 2012

EUROPEAN ARREST WARRANT ACTS 2003 AND 2012: ANNOTATED AND CONSOLIDATED IS A NEW TITLE THAT:
? Consolidates the legislation relating to the European Arrest Warrant Acts to give the reader an up-to-date account of the law
? Provides valuable annotations to help guide the reader through the Act
? Acts as a useful and handy guide that is of interest to academics, Governmental Departments, NGOs, practitioners, students and other persons working in this complex and vast area of law.

Se?n ? Toghda is a barrister practising in the area of criminal law. He is the author of Criminal Justice (Money Laundering and Terrorist Financing) Act 2010 Annotated and is the co-author of the university textbook Criminal Law with TJ McIntyre and Sinead McMullan.
Contact Us
Contact Us
LegalBooks.ie
Legal & General Shop
The Law Society Building
The Four Courts
Dublin 7
01 8725522
info@legalbooks.ie
D07 N972

VAT number: IE4814267p


Payment & Security
Your payment information is processed securely. We do not store credit card details nor have access to your credit card information.