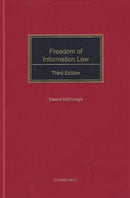 Description
Author : Maeve McDonagh
Publisher: Round Hall
Publication Date: 18/05/2015
ISBN: 9781858006833
Jurisdiction: Ireland

The new edition of Freedom of Information Law provides the user with a clear and comprehensive analysis of the Freedom of Information Act 2014, referring to decisions of the Information Commissioner and of the courts as well as to overseas FOI decisions. It also covers the separate legislative regime for access to environmental information.

New to this edition
* Deals with the Freedom of Information Act 2014 which replaces the Freedom of Information Acts 1997 ? 2003
* Features numerous new decisions of the Information Commissioner
* New High Court and Supreme Court decisions on FOI appeals are considered, including The Governors and Guardians Rotunda Hospital v Information Commissioner [2011] IESC 26, July 19, 2011.

Key Features
* An easy-to-understand reference that provides you with invaluable analysis and interpretation
* A systematic and thorough explanation of the Freedom of Information Act 2014
* Up to date and including all important decisions of the Information Commissioner and case law
* Each exemption provision is the subject of a full chapter
* The system of review and appeal is thoroughly examined
* Separate chapter on Access to Environmental Information
* Explores in details the interplay between FOI and privacy/data protection

Contents
Background; The Freedom of Information Act 2014; Publication of Government Information, Records Management and Reasons for Administrative Decisions; Access; The Exemptions: General Issues; Meetings of the government; Deliberations of FOI bodies; Functions and Negotiations of FOI bodies; Parliamentary, Court and Certain Other Matters; Law Enforcement and Public Safety; Defence, Security and International Relations; Confidentiality; Commercially Sensitive Information
Personal Information; Research and Natural Resources; Financial and Economic Interests of the State ; Enactments Relating to Non-Disclosure of Records; Access to and Amendment of Personal Records; Review and Enforcement;Access to Environmental Information; Freedom of Information and Data Protection; Freedom of Information and Archives

About the author
Professor Maeve McDonagh is an academic lawyer specialising in information law who has published widely in the field of information law. She has advised on the drafting and implementation of FOI legislation in various countries and she has been engaged as an expert on information law matters by the Organisation for Security and Cooperation in Europe (OSCE). Professor McDonagh was Deputy Chair of the Press Council of Ireland from 2007 - 2013. In 2013, she was appointed by the Irish government to the FOI Implementation Review Group.
Contact Us
Contact Us
LegalBooks.ie
Legal & General Shop
The Law Society Building
The Four Courts
Dublin 7
01 8725522
info@legalbooks.ie
D07 N972

VAT number: IE4814267p


Payment & Security
Your payment information is processed securely. We do not store credit card details nor have access to your credit card information.