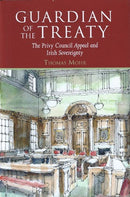 Description
By: Thomas Mohr
ISBN13: 9781846825873
Published: April 2016
Publisher: Four Courts Press
Country of Publication: Ireland
Format: Hardback
The Judicial Committee of the Privy Council was the final appellate court of the British Empire. In 1935 the Irish Free State was recognized as the first part of the Empire to abolish the appeal to the Privy Council.
This book examines the controversial Irish appeal to the Privy Council in the wider context of the history of the British Empire in the early 20th century. In particular, it analyses Irish resistance to the imposition of the appeal in 1922 and the attempts to abolish it at the Imperial conferences of the 1920s and 1930s.
This book also outlines the means by which Irish governments attempted to block Privy Council appeals. It examines the reality of claims that the Privy Council appeal offered a means of safeguarding the rights of the Protestant minority within the Irish Free State.
Finally, it reveals British intentions that the Privy Council act as the guardian and enforcer of the settlement embodied in the 1921 Anglo Irish Treaty. The conclusion to this work explains why the Privy Council was unsuccessful in protecting this settlement.
Contact Us
Contact Us
LegalBooks.ie
Legal & General Shop
The Law Society Building
The Four Courts
Dublin 7
01 8725522
info@legalbooks.ie
D07 N972

VAT number: IE4814267p


Payment & Security
Your payment information is processed securely. We do not store credit card details nor have access to your credit card information.