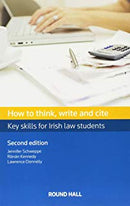 Description
Author : Jennifer Schweppe
Author : Ronan Kennedy
Author : Larry Donnelly
Publisher: Round Hall
Publication Date: 10/05/2016
ISBN: 9780414056558
Series: Key Skills for Irish Law Students
Jurisdiction: Ireland

Legal research and legal writing: Essential skills for success in the world of law
The new edition of How to think, write and cite provides students who are new to law with clear and practical guidance on mastering essential skills which will be key to success in their assignments and examinations, and which will also be invaluable in the workplace after graduating.

Key features
* Developed by experienced Irish academics and researchers specifically for Irish law students
* Easy-to-follow, practical advice
* Explanations of how to read legislation and court judgments
* Step-by-step instructions for accessing online legal databases
* Explains effective legal writing for exams and essays, including sample answers and essays
* Explains when and how to cite in essays
* Includes a detailed citation manual for Irish materials based on the internationally-accepted OSCOLA system

New to the second edition
* Up-to-date information on how to use online databases
* Expanded section on use of software to automate and simplify referencing
* New section on completing assignments
* Discussion of expanding role of clinical legal education
* Detailed discussion of different research methods, including doctrinal, historical and socio-legal research
* Suggestions for further reading
* Second edition of OSCOLA Ireland

The book is accompanied by a companion website, which will provide supplementary exercises and interactive quizzes which students can use to self-test at their own pace, or module co-ordinators can use to assess the work of students over the course of the module. (Please note that this website, while complementary to the book, is an independent endeavour by the authors. The book is sold as a stand-alone text.)

The authors
Jennifer Schweppe, School of Law, University of Limerick; Dr Ronan Kennedy, School of Law, National University of Ireland, Galway; Lawrence Donnelly, School of Law, National University of Ireland, Galway.
Contact Us
Contact Us
LegalBooks.ie
Legal & General Shop
The Law Society Building
The Four Courts
Dublin 7
01 8725522
info@legalbooks.ie
D07 N972

VAT number: IE4814267p


Payment & Security
Your payment information is processed securely. We do not store credit card details nor have access to your credit card information.