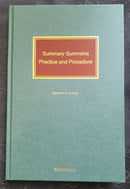 Description
Author : Kenneth P. Hyland
Publisher: Round Hall
Estimated Pub Date: 23/06/2021
ISBN: 9780414088443
Jurisdiction: Ireland
This First Edition of Summary Summons Practice and Procedure provides a comprehensive analysis of summary litigation. It is a book of reference for summary summons procedure and a conclusive, in depth analysis of the case law in the area which can be referenced by practitioners daily. The index and text are set out with logical progression, which is easy to follow and covers all identifiable hurdles one may meet when litigating on summary summons.
The text also covers the technical necessities for Special Indorsement of claim, motions and affidavits as well as an examination of the case law which has defined what contents are necessary.
Further the text contains an extensive discussion on the test for summary judgment and what is required for a defendant to be granted leave to defend.
TABLE OF CONTENTS
PART A. HISTORY OF SUMMARY SUMMONS PROCEDURE
CHAPTER 1 HISTORY OF SUMMARY SUMMONS PROCEDURE IN IRELAND
PART B. INITIATING PROCEEDINGS
CHAPTER 2 COMMENCEMENT OF PROCEEDINGS
CHAPTER 3 PARTIES
CHAPTER 4 IMPROPERLY CONSTITUTED AND DEFECTIVE PROCEEDINGS
CHAPTER 5 SERVICE
CHAPTER 6 APPEARANCE
PART C. HEARING OF ACTION
CHAPTER 7 PROCEDURE—HEARING OF ACTION
CHAPTER 8 DEFENDING SUMMARY SUMMONS PROCEEDINGS
CHAPTER 9 JUDGMENT
CHAPTER 10 APPEALS OF SUMMARY JUDGMENTS
PART D. DOCUMENTATION
CHAPTER 11 PLEADINGS: SUMMARY SUMMONS, SPECIAL INDORSEMENT OF CLAIM
CHAPTER 12 NOTICE OF MOTION
CHAPTER 13 AFFIDAVITS
PART E. BEYOND SUMMARY SUMMONS
CHAPTER 14 TEST FOR SUMMARY JUDGMENT—LEAVE TO DEFEND—TRANSFER TO PLENARY HEARING
About the Author
Kenneth P. Hyland BL is a practicing Barrister specialising in Banking, Finance & Securities, Debt Recovery, Contract law and Insurance law.
Contact Us
Contact Us
LegalBooks.ie
Legal & General Shop
The Law Society Building
The Four Courts
Dublin 7
01 8725522
info@legalbooks.ie
D07 N972

VAT number: IE4814267p


Payment & Security
Your payment information is processed securely. We do not store credit card details nor have access to your credit card information.