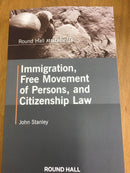 Description
Immigration, Free Movement of Persons, and Citizenship Law 
Author : John Stanley
Publisher: Round Hall
Publication Date: 21/06/2019
ISBN: 9780414071452

Round Hall Nutshells is a series of books presenting the essentials of the law in clear, straightforward language. Designed with the busy student in mind, the Nutshell is perfect for exam preparation, with brief, clear explanations of key exam topics throughout.
This first edition provides the reader with the essentials of Irish immigration, EU free movement, and citizenship law for the first time in our Nutshells series.
Key features:
? An easy to understand, succinct overview of Immigration law; EU free movement law in Ireland; and nationality and citizenship law.
? Highlights the key cases and principles in an accessible and concise manner.
? Ideal for helping the student with assignments that require an overall understanding of how this area operates.
? Up-to-date, and including all legislation and key case law in this fast-developing area.
? Outlines how visas and entry to the State operate for non-Irish nationals.
? Helps the reader to understand the various ways that non-Irish nationals can lawfully reside in the State.
? Explains how the removal and deportation processes work, and the legal issues that arise.
? Particular focus is given to how personal and family rights, and the rights of children, are considered in the deportation process.
? Outlines all the civil and criminal enforcement measures, including criminal offences, relevant to immigration control.
? Sets out clearly the various ways that someone can be, or be entitled to be, or become naturalised as, an Irish citizen.
Contact Us
Contact Us
LegalBooks.ie
Legal & General Shop
The Law Society Building
The Four Courts
Dublin 7
01 8725522
info@legalbooks.ie
D07 N972

VAT number: IE4814267p


Payment & Security
Your payment information is processed securely. We do not store credit card details nor have access to your credit card information.