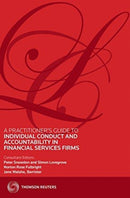 Description
Format:Paperback / softback
Publisher:Sweet & Maxwell Ltd
ISBN:9780414050730
Published:31 May 2016
Classifications:England, Wales, Financial services law & regulation
Readership:Professional & Vocational
Weight:880g
Dimensions:159 x 234 x 34 (mm)
Firm Sale:Yes
Pub. Country:United Kingdom


Individual Conduct and Accountability will give detailed and practical guidance for all types of financial institution concerning the new rules governing the conduct and behaviour of individuals, both approved and non-approved, which will come into force in 2015. This will include all aspects from obtaining approval through to supervision, enforcement and liability. Separate chapters will deal with different classes of individual, and the text will include checklists and case studies.

Contact Us
Contact Us
LegalBooks.ie
Legal & General Shop
The Law Society Building
The Four Courts
Dublin 7
01 8725522
info@legalbooks.ie
D07 N972

VAT number: IE4814267p


Payment & Security
Your payment information is processed securely. We do not store credit card details nor have access to your credit card information.