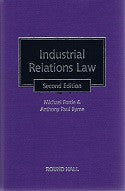 Description
Author : Michael Forde SC
Author : Anthony Paul Byrne
Publisher: Round Hall
Publication Date: 31/12/2010
ISBN: 9781858006055
Jurisdiction: Ireland

A DETAILED, ONE-STOP REFERENCE FOR PRACTITIONERS
*This book provides a complete account of all aspects of industrial relations from a legal perspective, including increasingly relevant EU and European Convention requirements.
*It is fully updated and covers all recent legislative and case law developments.
*There are dedicated chapters on industrial relations in the public sector (military, Garda, the civil service and state-owned enterprises).
*This book evaluates the uniquely transitional questions that arise in the employer?union relationships.

UP-TO-DATE CASE LAW AND LEGISLATION
It is fully up-to-date and covers recent legislative and case law developments including:
*The Ryanair v Labour Court case
*The Viking and Laval cases in the European Court of Justice
*The Exceptional Collective Redundancies law
*The Provision of Information and Consultation law
*The amendments affecting continuity of employment where industrial action takes place
*All of the relevant legislative provisions are reproduced in the appendices, in fully updated form

ABOUT ThE AUTHORS
Michael Forde is a Senior Counsel and practises law principally in Ireland, appearing regularly before the High Court and Supreme Court, and at times before the European Court of Justice.
Anthony Paul Byrne is a practising barrister and practises mainly in civil law, appearing regularly before the Superior Courts.
Contact Us
Contact Us
LegalBooks.ie
Legal & General Shop
The Law Society Building
The Four Courts
Dublin 7
01 8725522
info@legalbooks.ie
D07 N972

VAT number: IE4814267p


Payment & Security
Your payment information is processed securely. We do not store credit card details nor have access to your credit card information.