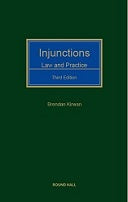 Description
Author: Brendan Kirwan
Publisher: Round Hall
Publication Date: 31/10/2020
ISBN: 9780414080218
Jurisdiction: Ireland


The new edition of Injunctions Law and Practice provides a comprehensive overview of both the law in relation to injunctions. It is written and laid out in a way that aids quick consultation by a busy practitioner, as well as guiding anyone who wishes to gain a more in-depth understanding of the law and practice in this area. The third edition analyses all the major judgments delivered by the Superior Courts since the last edition in 2015 and identifies material changes to both the Rules of the Superior Courts and practice in the courts.

Features

* Up to date review of key cases in the field of injunctions.
* Detailed guide to practical aspects of applying for injunctions.
* Topics and themes broken down, with extensive use of headings and sub-headings to facilitate easy access.
* Summaries and key quotations set out in the text for ease of reference.
* In-depth consideration of the law and its development.
* Extensive use of footnotes for further reading and analysis.

New to this Edition

* All chapters reviewed and restructured to ensure ease of access and readability.
* Considers the important Supreme Court judgments dealing with interlocutory injunctions in Merck Sharp & Dohme Corp v Clonmel Healthcare Ltd. and C.C. v Minister for Justice and Equality, as well as revisiting Dowling v Minister for Finance.
* Identifies other important decisions looking at specific aspects of the principles applicable to the granting of interlocutory injunctions including the Court of Appeal judgments in Betty Martin Financial Services Ltd. v EBS DAC (the wider application of the Merck Sharp & Dohme restatement and its practical considerations), Sheehan v Breccia (discharging an injunction) and the High Court judgment in Nolan v Dildar Ltd (undertakings as to damages).
* Identifies and contextualises the important judgments in specific areas of the law, in particular in employment law, commercial injunctions, planning law, immigration law, receiverships, defamation and criminal law. Also considers the ongoing evolution of the debate as to the nature of contempt and associated sanctions.
* Considers important, and potentially influential, judgments from the English courts, particularly in relation to claims against "persons unknown", publication in the age of the internet and social media and anti-suit injunctions.

About the Author

Brendan Kirwan is a Senior Counsel. His practice is civil law based and covers a broad range of areas including contract law, tort and company law. His particular areas of interest and specialisation are employment law and defamation law, in respect of which he has written articles and presented papers to specialist bodies and practitioners. He has represented parties in statutory tribunals and the Circuit and Superior Courts.
Contact Us
Contact Us
LegalBooks.ie
Legal & General Shop
The Law Society Building
The Four Courts
Dublin 7
01 8725522
info@legalbooks.ie
D07 N972

VAT number: IE4814267p


Payment & Security
Your payment information is processed securely. We do not store credit card details nor have access to your credit card information.