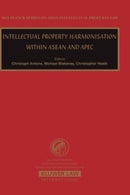 Description
Edited by: Christopher Antons, Michael Blakeney
Series: Max Planck Series on Asian Intellectual Property Set
Format: Hardback 274 pages
Publisher: Kluwer Law International
Imprint: Kluwer Law International
ISBN: 9789041122926
Published: 11 Nov 2004
In several major areas of international trade particularly software and technology transfer a harmonised regime of intellectual property law is a crucial prerequisite to success. Yet this legal concept appears to be extraordinarily difficult to establish on any agreed-upon basis among countries. And nowhere has the sought-for harmonisation proven more intractable than in the countries of the Asia Pacific region.
Intellectual Property Harmonisation in ASEAN and APEC investigates the complex issues that lie at the root of this major block to the unhampered global flow of commerce based on intangible assets. By highlighting the background of Asian legal systems, both in terms of culture and intellectual property systems, the authors suggest how the current obstacles towards greater harmonisation and integration may be overcome. Defining the accepted principles enshrined in TRIPS, the Paris Convention, and other international agreements, the presentation describes the relatively successful European experience and then goes on to develop strategic variations geared to relate more precisely to harmonisation, integration and co-operation in the East Asian region.
Among the important elements of the problem (and its potential solutions) discussed in this book are the following:
-       the strong influence of legal culture in the different Asian countries;
-       the limits of IP harmonisation in Europe;
-       the importance of understanding the political and cultural perceptions that prevail in the various Asian countries;
-       the non-uniform approach of different Asian countries due in part to bilateral free trade agreements; and
-       the experience of patent office cooperation and its potential as a model for smaller countries.
The contributing authors have all worked in the IP field for more than a decade and have followed closely the developments of intellectual property law since the advent of the TRIPS Agreement. Their collective expertise includes both academic and practical considerations on IP harmonisation.
Intellectual Property Harmonisation in ASEAN and APEC will be of great value and interest to policymakers seeking effective enforcement of intellectual property rights, to international lawyers counselling clients on Asia, and to academics working in the fields of intellectual property or Asian law.
Contact Us
Contact Us
LegalBooks.ie
Legal & General Shop
The Law Society Building
The Four Courts
Dublin 7
01 8725522
info@legalbooks.ie
D07 N972

VAT number: IE4814267p


Payment & Security
Your payment information is processed securely. We do not store credit card details nor have access to your credit card information.