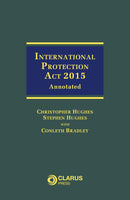 Description
International Protection Act 2015: Annotated
A detailed and comprehensive annotation of the International Protection Act 2015

Pre-Order Now!!
Product Description:
Authors: Christopher Hughes, Stephen Hughes with Conleth Bradley SC 
ISBN: 9781911611127
Publication Date: 15 January 2020 

About:
International Protection Act 2015: Annotated is a new book that provides detailed annotations to each section of the International Protection Act 2015, which includes reference to case law and to relevant regulations and statutory provisions. This book also includes an analysis of the relevant practice and procedure throughout the International Protection application process and the relevant procedures in the Irish Courts.

International Protection Act 2015: Annotated will serve as an invaluable reference guide to practitioners and members of the public in comprehending the often complex and technical provisions contained in the 2015 Act.

The International Protection Act 2015

At the time of its enactment, Ireland was the only EU Member State without a single procedure; Ireland was the only Member State without a streamlined system of assessing all forms of international protection for asylum-seekers. The aim of the 2015 Act is to update and comprehensively reform the asylum system in Ireland. The 2015 Act provides for a streamlined single procedure to assess all forms of protection status for asylum-seekers that is intended, inter alia, to reduce lengthy delays in the asylum system.

According to Directive 2004/83/EC, "international protection" means the "recognition by an EU State of a non-EU national or a stateless person as a refugee or as a person eligible for subsidiary protection." International Protection has been defined by the UNHCR (United Nations High Commissioner for Refugees) as follows:

"[A]ll actions aimed at ensuring the equal access to and enjoyment of the rights of women, men, girls and boys of concern to UNHCR, in accordance with the relevant bodies of law (including international humanitarian, human rights and refugee law)."

Furthermore, the UNHCR has stated that International Protection includes the following:

Promoting ratification and supervising the application of international conventions for the protection of refugees at the global and, increasingly, the regional level to ensure refugees are identified and accorded appropriate status and standards of treatment in their countries of asylum;
Ensuring, with and through national authorities, the safety and well-being of refugees in countries of asylum;
Ensuring the needs of refugee children, refugee women and refugee men are met, including in particular the special needs of victims of violence, women who are single heads of household, elderly refugees, and child refugees who have been forcibly recruited as child soldiers and/or separated from their families;
Promoting, with governments and with other United Nations and international bodies, measures to remove the causes of refugee flight so as to establish conditions that permit refugees to return safely to their homes;
Facilitating, assisting and monitoring the safety and dignity of voluntary repatriation when this becomes feasible. When the aforesaid is not possible, promoting the other durable solutions of local integration or resettlement.
In essence the 2015 Act sets out the procedure for (1) Applications for International Protection and (2) Applications for Permission to Remain.
Contact Us
Contact Us
LegalBooks.ie
Legal & General Shop
The Law Society Building
The Four Courts
Dublin 7
01 8725522
info@legalbooks.ie
D07 N972

VAT number: IE4814267p


Payment & Security
Your payment information is processed securely. We do not store credit card details nor have access to your credit card information.