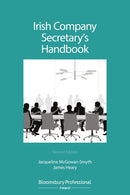 Description
Published: 15-08-2019
Edition: 2nd
ISBN: 9781784517434

About Irish Company Secretary's Handbook:

Irish Company Secretary's Handbook examines the company secretarial requirements contained in the Companies Acts and relevant EU regulations.
The book includes useful chapters on all areas of company secretarial practice, including annual returns, directors' and auditors' responsibilities as well as statutory disclosure requirements. It gives a clear explanation of the many day-to-day functions of a company secretary along with a large number of up-to-date precedents, practical checklists, step-by-step instructions and best practice guidelines.

This practical title covers the wide range of developments that have recently affected company secretarial practice and procedure, most notably Companies Act 2014, the changes to the Criminal Justice legislation, and the introduction of GDPR.

For ease of use Irish Company Secretary's Handbook provides a downloadable version of all precedents that appear in the book.

This is a 'must have' book for company secretaries and assistant company secretaries in company formation businesses, law firms and accountancy practices as well as for law students. Solicitors in private practice, in-house solicitors and accountants will also find this a useful resource.

Table Of Contents
Chapter 1 The Company Secretary
Chapter 2 Directors
Chapter 3 Members
Chapter 4 Statutory Auditors, Receivers and Examiners
Chapter 5 Incorporation and Re-registration
Chapter 6 Company Name
Chapter 7 The Constitution
Chapter 8 Financial Statements
Chapter 9 Annual Return
Chapter 10 Borrowing and Charges
Chapter 11 Registered Office
Chapter 12 Registers and Minutes
Chapter 13 Share Capital
Chapter 14 Share Registration
Chapter 15 Dividends and Distributions
Chapter 16 Corporate Authority
Chapter 17 Members' Meetings and Resolutions
Chapter 18 Board Meetings and Resolutions
Chapter 19 Members' Voluntary Winding Up
Chapter 20 Strike Off and Restoration
Contact Us
Contact Us
LegalBooks.ie
Legal & General Shop
The Law Society Building
The Four Courts
Dublin 7
01 8725522
info@legalbooks.ie
D07 N972

VAT number: IE4814267p


Payment & Security
Your payment information is processed securely. We do not store credit card details nor have access to your credit card information.