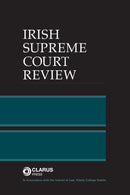 Description
Editor: Dr Patricia Brazil 
ISBN: 9781911611714 
Publishing: 10 May 2022
The Irish Supreme Court Review is published annually by Clarus Press on behalf of the School of Law, Trinity College, Dublin. It is a peer-reviewed legal journal, publishing articles that consider major themes in the work of the Court and its leading cases in the previous legal year. Articles are drawn from papers presented at the annual Conference of the Irish Supreme Court Review, including keynote contributions reflecting on the role of the Supreme Court, especially as it debates matters with other international and apex courts.
Volume 3, 2021 contains the following:
Articles
People (DPP) v Eadon: The Supreme Court Removes Constructive Liability from the Defence of Voluntary Intoxication | Michael Dillon
Morrissey v Health Service Executive: Professional Negligence, Damages and the Non-Delegable Duty of Care | William Binchy
Individual Criminal Responsibility for Corporate Managers: Director of Public Prosecutions v TN | Joe McGrath
Judicial Stewardship of the Provocation Defence in People (DPP) v McNamara | David Prendergast
Trials of Charges Of Non-Recent Child Sexual Abuse. The Test To Be Applied In Defence Applications To Halt The Trial On The Grounds Of Pre-Complaint Delay: DPP v CCe | Sinead Ring
Prison Law in Ireland Enters Adulthood: Simpson v Governor of Mountjoy Prison | Mary Rogan
The Domestic Life of Climate Law: Friends of the Irish Environment v Ireland | Surya Roy
Michael X and Emma Y and others v Minister for Social Protection and others: Welfare, Immigration Status and Citizenship | Liam Thornton
Contact Us
Contact Us
LegalBooks.ie
Legal & General Shop
The Law Society Building
The Four Courts
Dublin 7
01 8725522
info@legalbooks.ie
D07 N972

VAT number: IE4814267p


Payment & Security
Your payment information is processed securely. We do not store credit card details nor have access to your credit card information.