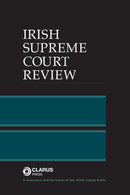 Description
Editor: Dr Oran Doyle 
ISBN: 9781911611677 
Publishing: 12 May 2022 | Price Per Issue: €129
The Irish Supreme Court Review is published annually by Clarus Press on behalf of the School of Law, Trinity College, Dublin. It is a peer-reviewed legal journal, publishing articles that consider major themes in the work of the Court and its leading cases in the previous legal year. Articles are drawn from papers presented at the annual Conference of the Irish Supreme Court Review, including keynote contributions reflecting on the role of the Supreme Court, especially as it debates matters with other international and apex courts.
Volume 4, 2022 contains the following:
Articles
Quinn Insurance Ltd v PricewaterhouseCoopers |  Hilary Biehler
Damache v Minister for Justice and the inexorable march of fair procedures |  Laura Cahillane
Finding Stable Ground: The Supreme Court and the Non-Delegation Doctrine after Náisiunta Leictreacht v Labour Court, Minister for Business Enterprise, and Ireland [2021] IESC 36 |  Conor Casey
Zalewski: …… An Outpost at a Difficult and Indistinct Frontier | Michael Doherty
Getting the Reasoning Right: Gibbons v Doherty and ADT Investments Ltd [2020] IESC 72 |  Sarah E Hamill
Surveillance, Statutory Compliance And The Admissibility Of Evidence: DPP v Hannaway [2021] IESC 31 |  Liz Heffernan
Summary Possession Revisited Bank of Ireland Mortgage Bank v Cody [2021] IESC 26 |  Karen Lynch Shally
The Same, but Different? Article 42A and the Threshold for State Intervention in Family Life | Conor O'Mahony
Cantrell v Allied Irish Banks Plc: A Discussion of Damage and A Conversation on Limitations |  Eoin Quill
University College Cork v Electricity Supply Board [2020] IESC 38 and [2021] IESC 21 | Desmond Ryan
Gorry v Minister for Justice and Equality [2020] IESC 55 | Gerry Whyte
Contact Us
Contact Us
LegalBooks.ie
Legal & General Shop
The Law Society Building
The Four Courts
Dublin 7
01 8725522
info@legalbooks.ie
D07 N972

VAT number: IE4814267p


Payment & Security
Your payment information is processed securely. We do not store credit card details nor have access to your credit card information.