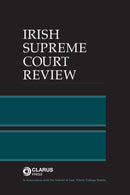 Description
Editor: Dr Sarah Hamill
ISBN: 9781911611899
Published: 21 June 2023
The Irish Supreme Court Review is published annually by Clarus Press on behalf of the School of Law, Trinity College, Dublin. It is a peer-reviewed legal journal, publishing articles that consider major themes in the work of the Court and its leading cases in the previous legal year. Articles are drawn from papers presented at the annual Conference of the Irish Supreme Court Review, including keynote contributions reflecting on the role of the Supreme Court, especially as it debates matters with other international and apex courts.
Volume 5, 2023 contains the following:
Articles
Citizenship as Civic Relationship: U.M. v Minister for Foreign Affairs and Trade [2022] IESC 25 |  Michael P Foran
Dowdall and Hutch v Director of Public Prosecutions [2022] IESC 36 |  Mark Coen
How to Adjudicate a Rights Case in Irish Constitutional Law: Gemma O'Doherty & John Waters v Minister for Health | Tom Hickey
The People (DPP) v McDonald [2022] IESC 29 |  Lauren O'Connell
It's Nothing Personal: The Ineffective Exclusion of Personal Grievances in the Protected Disclosures Act 2014- Baranya v Rosderra Irish Meats Group Ltd | Lauren Kierans
Higgins v Irish Aviation Authority [2022] IESC 13 | Neville Cox
Executive Power and its Limits: Burke v Minister for Education [2022] IESC 1 | Oran Doyle
Clare CC v Bernard and Helen McDonagh and IHREC [2022] IESC 2 |  Padraic Kenna
Shadow Constitutionalism: P McD v The Governor Of The X Prison [2021] IESC 65 | Ronan Condon
Is the President a 'Public Authority'? Presidential Functions, Immunity and the Access to Information on the Environment Regulations: Right to Know CLG v Commissioner for Environmental Information [2022] IESC 19 | Mark Poustie
Sobhy v Chief Appeals Officer [2021] IESC 81 | Martin Hogg
Standards of Review and the Equality Guarantee: Donnelly v Minister for Social Protection [2022] IESC 31 | Davy Lalor
The Right to Life and the State's Investigative Obligations: Fox v Minister for Justice [2021] IESC 61 | Hilary Hogan
Proof of Sexual Assault in Irish Law: People (DPP) v FN [2022] IESC 22 | Catherine O'Sullivan
Contact Us
Contact Us
LegalBooks.ie
Legal & General Shop
The Law Society Building
The Four Courts
Dublin 7
01 8725522
info@legalbooks.ie
D07 N972

VAT number: IE4814267p


Payment & Security
Your payment information is processed securely. We do not store credit card details nor have access to your credit card information.