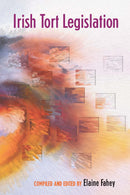 Description
by Dr Elaine Fahey
Format Paperback
ISBN 978-1-907325-12-0
Publication Date February 2015
Irish Tort Legislation provides an up-to-date selection of relevant legislation for the law of torts in Ireland. It provides an accessible, essential reference guide and which is timely. This handbook will be of use to students and practitioners of law alike, along with users in the public and private sector requiring a comprehensive selection of regulatory framework information. The legislation is unannotated and may be brought by student users of the work into examinations and used with ease in court proceedings. The selection of legislation includes legislation relevant to inter alia negligence, medical negligence, employment law, product liability, building law, personal injuries, defamation law and all aspects of civil procedure governing the Irish law of torts. In particular, it includes a comprehensive collection of legislation establishing the framework for the personal injuries regime in Ireland, namely the Personal Injuries Assessment Board Act 2003, Personal Injuries Assessment Board Rules 2004 and the Personal Injuries Assessment Board (Amendment) Act 2007. Major relevant legislation is set out in full, for example, the Defamation Act 2009, along with related statutory instruments. Legislation with significance for civil procedure in the Irish courts, the Civil Liability and Courts Act 2004, is also included. Significant new legislation with regulatory implications for the depiction of tortious conduct is covered, for example, the Civil Partnership and Certain Rights and Obligations of Cohabitants Act 2010 and the Criminal Law (Defence and the Dwelling) Act 2011. Key EU legislation transposed using secondary law is also included, for example, the European Communities (Directive 2000/31/EC) Regulations 2003 (S.I. 68/2003), the European Communities (General Product Safety) Regulations 2004 (S.I. 199/2004), the European Communities (Liability for Defective Products) Regulations 2000 (S.I. 401/2000) and the European Union (Liability of Carriers of Passengers by Sea) Regulations 2012 (S.I. 552/2012), as is legislation relevant to the transposition of the European Convention on Human Rights into Irish law.
Contact Us
Contact Us
LegalBooks.ie
Legal & General Shop
The Law Society Building
The Four Courts
Dublin 7
01 8725522
info@legalbooks.ie
Payment & Security
Your payment information is processed securely. We do not store credit card details nor have access to your credit card information.