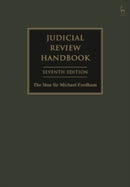 Description
Author: The Hon Sir The Hon Sir Michael Fordham
Format: Hardback 992 pages
Publisher: Bloomsbury Publishing PLC
Imprint: Hart Publishing
Edition: 7th ed
ISBN: 9781509922833
Published: 24 Dec 2020
"...an institution for those who practise public law...it has the authority that comes from being compiled by an author of singular distinction". (Lord Woolf, from the Foreword to the Fifth Edition)The new edition of this Handbook remains an indispensable source of reference and a guide to the case-law in judicial review. Established as an essential part of the library of any practitioner engaged in public law cases, if offers unrivalled coverage of administrative law, including, but not confined to, the work of the Administrative Court and its procedures.
Once again completely revised and up-dated, the seventh edition approximates to a restatement of the law of judicial review, organised around 63 legal principles, each supported by a comprehensive presentation of the sources and an unequalled selection of reported case quotations. It also includes essential procedural rules, forms and guidance issued by the Administrative Court. As in the previous edition, both the Civil Procedure Rules and Human Rights Act 1998 feature prominently as major influences on the shaping of the case-law.
Attention is also given to impact of the Supreme Court. Here Michael Fordham casts an experienced eye over the Court's work in the area of judicial review, and assesses the signs from a Court that will be one of the key influences in the development of judicial review in the modern era. The author, a leading member of the English public law bar, and now has been involved in many of the leading judicial review cases in recent years and is the founding editor of the Judicial Review journal.
Contact Us
Contact Us
LegalBooks.ie
Legal & General Shop
The Law Society Building
The Four Courts
Dublin 7
01 8725522
info@legalbooks.ie
D07 N972

VAT number: IE4814267p


Payment & Security
Your payment information is processed securely. We do not store credit card details nor have access to your credit card information.