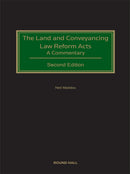 Description
By: Neil Maddox
ISBN: 9780414091788
Previous Edition ISBN: 9781858005553
Published: October 2021
Publisher: Round Hall Press
Country of Publication: Ireland
Format: Hardback
The new edition of The Land and Conveyancing Reform Acts: A Commentary provides a comprehensive section-by-section analysis of the Land and Conveyancing Act 2009 and its amending legislation. This Act is the most important piece of legislation relating to Irish land and conveyancing law, making this unique book a must-have. The extensive commentary refers to reported and unreported decisions of the courts, legislation and practice directions.
This is a highly accessible reference tool provides you with invaluable analysis and interpretation of this major piece of legislation and is of relevance to such diverse areas of legal practice as Banking Law, Finance and Securities, Insolvency Law, Contracts as well as Property Law and Conveyancing. A plethora of case law has been decided since the inception of the Act and this work incorporates this law into its analysis of the statutes.
This essential and readable guide that brings out new key changes in this area of law and provides those practitioners in the field as well as non-specialists with an excellent, convenient and portable guide for regular daily reference.
New content in this edition includes:
Legislative changes introduced by the Land and Conveyancing (Law Reform) Acts 2013–2019, featuring numerous cases relating to land and conveyancing law in Ireland since the Act's inception in 2009.
All chapters have been revised and rewritten to incorporate recent developments and case law relating to the Land and Conveyancing Acts.
Incorporation of the plethora of case-law relating to the enforcement of mortgages as well as the new rules in relation to easements, co-ownership and lites pendens.
A consideration of how the act has been implemented in the courts by the new Order 72A of the Rules of the Superior Courts and the new Order 46A of the Circuit Court Rules.
Subjects:
Irish Law
Contents:
Land and Conveyancing Law Reform Act 2009
1. Preliminary and General
2. Ownership of Land
3. Future Interests
4. Trusts of Land
5. Variation of Trusts
6. Powers
7. Co-Ownership
8. Appurtenant Rights
9. Contracts and Conveyances
10. Mortgages
11. Judgment Mortgages
12. Lis Pendens
13. Amendments to Registration of Title Act 1964
14. Miscellaneous
Schedule 1: Amendments
Schedule 2: Repeals
Schedule 3: Covenants Implied in Conveyances
Land and Conveyancing Law Reform Act 2013
1. Application of certain statutory provisions
2. Adjournment of proceedings to facilitate making of proposal for Personal Insolvency Arrangement
2A. Procedures to apply in certain proceedings
3. Proceedings relating to certain mortgages to be brought in Circuit Court
4. Provision in respect of certain proceedings
5. Short title and commencement
Index.
Contact Us
Contact Us
LegalBooks.ie
Legal & General Shop
The Law Society Building
The Four Courts
Dublin 7
01 8725522
info@legalbooks.ie
D07 N972

VAT number: IE4814267p


Payment & Security
Your payment information is processed securely. We do not store credit card details nor have access to your credit card information.