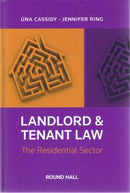 Description
New edition available Here
Una Cassidy, Jennifer Ring

ISBN13: 9781858005027

Publication Date: 30/06/2010


The Residential Tenancies Act 2004, with over 200 sections, did not consolidate pre-existing legislation but runs parallel with it. The Act has also introduced new statutory obligations, while supplementing existing ones

Landlord and Tenant Law ? The Residential Sector by Cassidy and Ring provides a thorough analysis of landlord and tenant law in the private residential sector since the introduction of the Act.

KEY BENEFITS

*Considers the obligation to set rent no greater than "market rent" and the requirements for a valid rent review.
*Highlights the pitfalls and mistakes that are commonly made when terminating tenancies and walks you step-by-step through the relevant procedures.
*Defines when the tenant is in breach of their tenancy obligations, examining in particular how ?anti-social? behaviour is interpreted.
*Comprehensively deals with the dispute resolution process, including how to make an application to the PRTB; who has a right torefer a dispute; what disputes are not dealt with by the PRTB.
*Provides you with all the documents you need to guide you through the life of a tenancy from beginning to end. Includes a sample lease agreement, warning letters and handy checklists to ensure nothing is forgotten.

UP-TO-DATE
*Considers and incorporates PTRB cases throughout to illustrate how the law has been interpreted in practice by the PRTB.
*Addresses each topic comprehensively by dealing with all relevant legislation, making it much easier to understand how the law currently stands.

By addressing each topic comprehensively, by simplifying the complexities of the Act and by providing practical checklists and summaries of procedures, this book will make life easier for anyone involved in:
*Renting properties
*Carrying out rent reviews
*Terminating tenancies
*Drafting lease agreements
*Advising landlords and tenants on their rights and obligations
*Representing parties in the dispute resolution process before the PRTB.

HANDY APPENDICES INCLUDING:
*Residential Tenancy Agreement
*Notices of Termination
*Example Statutory warning letters ? breach of obligation and failure to pay rent
*Circuit Court Forms

ABOUT THE AUTHORS
Jennifer Ring is a solicitor who was previously seconded to the Private Residential Tenancies Board from Matheson Ormsby Prentice solicitors. Jennifer is currently working with Freehills solicitors.
Una Cassidy is a practising barrister in the Dublin Circuit, specialising in the area of landlord and tenant law.
Contact Us
Contact Us
LegalBooks.ie
Legal & General Shop
The Law Society Building
The Four Courts
Dublin 7
01 8725522
info@legalbooks.ie
D07 N972

VAT number: IE4814267p


Payment & Security
Your payment information is processed securely. We do not store credit card details nor have access to your credit card information.