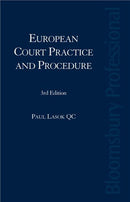 Description
K.P.E. Lasok
Edition: 3rd
ISBN: 9781845920661
Previous Edition ISBN: 0406006210
Published: January 2017
Publisher: Bloomsbury Professional
Country of Publication: UK
Format: Hardback
When the European Court of Justice and the Court of First Instance drafts it's own procedural rules, and when it makes decisions on procedural matters, it turns to Paul Lasok's highly regarded book for confirmation and guidance.

It is therefore an essential work of reference and practical advice for all legal practitioners preparing a case to be heard before the European Court of Justice. This new third edition has been updated and amended to take account of the changes to the jurisdiction and procedure of the Court of First Instance, plus the significant changes brought about by the signing of the Treaty of Nice in order to reduce the increasing workload of the European Court of Justice and the Court of First Instance.
 
Contents:
The court as an Institution.
General Outline of Procedure.
Parties.
Representation and Legal Aid.
Intervention.
Procedural Issues.
Admissibility.
Interim Relief.
Pleading.
Evidence.
Measures of Enquiry.
Exclusion of Evidence.
Rules of Evidence.
Costs.
Appeals.
Judgements and Decisions.
Forms of Action.
Appendices.
 
Contact Us
Contact Us
LegalBooks.ie
Legal & General Shop
The Law Society Building
The Four Courts
Dublin 7
01 8725522
info@legalbooks.ie
D07 N972

VAT number: IE4814267p


Payment & Security
Your payment information is processed securely. We do not store credit card details nor have access to your credit card information.