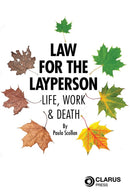 Description
Author: Paula Scollan
ISBN: 9781911611103
Published: Feb 2020

Law for the Layperson: Life, Work & Death
A self-help legal guide answering questions on a wide range of issues

About

Law for the Layperson: Life, Work & Death is an easy to read, accessible reference book which seeks to inform the reader on a wide variety of legal issues that they may encounter in their day-to-day lives. When a legal matter arises oftentimes a person is confronted by a bewildering array of legal concepts, procedures or complex jargon and are at a loss to understand what is going on. The purpose of this book is to simplify such complexities and multi-layered rules and provide quick solutions to various queries that may arise.

The approach taken by the author is to provide an everyday query formulated much like a question one might find in a self-help legal column in a newspaper. A detailed answer follows, highlighting the general issues that the reader should be aware of and what steps they might take next. Everyday topics such as buying or selling a house, making a will, probate, family law queries, personal injuries, negligence, employment law, consumer law and defamation are addressed. Law for the Layperson: Life, Work & Death will be an invaluable reference book for all non-lawyers seeking guidance as required on legal issues.

Content Includes

Chapter 1: Buying or Selling a House and Property
Chapter 2: Renting and Renters: The Law Involved in Renting a Property
Chapter 3: Family Law
Chapter 4: Employment Law
Chapter 5: Defamation, Bullying and Harassment
Chapter 6: Farming and Agricultural Law
Chapter 7: Consumer Rights
Chapter 8: Personal Injuries, Accidents and Negligence
Chapter 9: Last Will and Testament, Probate Law, Trusts, Enduring Power of Attorney

About the Author

Award winning author, solicitor and legal affairs columnist Paula Scollan-Gleeson LLB LLM has written this reference book on provisions of Irish law and practice.

Who Should Buy This Book?

Law for the Layperson: Life, Work & Death is the first dedicated self-help book from Clarus Press aimed squarely at non-lawyers. Designed for anyone with a legal query this book will be of great interest to anyone who requires further information on an issue or dispute that may arise in the course of their family or work life.
Contact Us
Contact Us
LegalBooks.ie
Legal & General Shop
The Law Society Building
The Four Courts
Dublin 7
01 8725522
info@legalbooks.ie
D07 N972

VAT number: IE4814267p


Payment & Security
Your payment information is processed securely. We do not store credit card details nor have access to your credit card information.