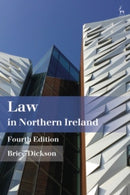 Description
By Brice Dickson 
Format:Paperback / softback 536 pages
Publisher: Bloomsbury Publishing PLC
Edition: 4 ed
ISBN: 9781509961207
Published: 14 Jul 2022
This textbook presents an engaging and thorough examination of the law in Northern Ireland. It guides students through the evolution of law-making, the legislative process, courts, and case law and presents a clear overview of the fundamental rules and principles of international law, public law, criminal law, and private law. It contextualises the myriad legal institutions operating in the jurisdiction, sets out how criminal and civil proceedings work in practice, and provides useful information on how people become lawyers, what lawyers actually do once they become qualified, and how the legal system is funded.
The appendices set out sample sources of law so that readers can familiarise themselves with what is involved in handling legal documents. This edition has been updated following recent legal developments in Northern Ireland including the 'New Decade, New Approach' agreement of 2020 and the different elements of the power-sharing government, such as the proposed Languages Bill and the Northern Ireland (Ministers, Elections and Petitions of Concern) Bill. It explains the effect of Brexit, in particular the new concept of 'retained EU law' and the effect of the Ireland / Northern Ireland Protocol to the EU-UK Withdrawal Agreement.
Setting out the implications of the recent UK-wide reviews of administrative law and the Human Rights Act for Northern Ireland, the book examines the work of the shadow Civil Justice Council and Family Justice Board and looks at the latest developments in the reform of abortion law. It explores new Assembly legislation that addresses the use of committal proceedings in criminal cases, the protection afforded to victims of domestic violence, and the rights of other victims, for example in relation to compensation for victims and survivors of the troubles and the appointment of an interim Victims of Crime Commissioner.
Contact Us
Contact Us
LegalBooks.ie
Legal & General Shop
The Law Society Building
The Four Courts
Dublin 7
01 8725522
info@legalbooks.ie
D07 N972

VAT number: IE4814267p


Payment & Security
Your payment information is processed securely. We do not store credit card details nor have access to your credit card information.