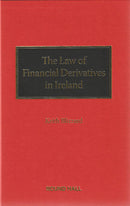 Description
Keith Blizzard

ISBN13: 9781858006406
Published: December 2011
The Law of Financial Derivatives in Ireland provides Irish practitioners, or anyone dealing with Ireland as a jurisdiction, with a comprehensive review of the issues raised under Irish law in respect of derivatives, together with a guide and explanations on how to manage, solve or avoid those issues. In addition, he pulls together a variety of materials which would be an invaluable point of reference for readers in dealing with legal issues arising in the course of derivatives trading. It:

Provides a comprehensive examination of Irish legislation and EU directives currently in place such as the Markets in Financial Instruments Directive (MiFID), funds regulation and other Central Bank regulatory requirements relating to the Irish market.
Discusses relevant common law with particular reference to contract law cases, e.g. the question of ultra vires and the interpretation of the ISDA Master Agreement.
Reviews the Irish law on gaming, insurance and the challenges of Irish insolvency law.
Explores the issues that arise where two parties agree to use Irish law as the governing law of their contract.
Presents a comprehensive examination of Irish case law and relevant cases from other jurisdictions, such as recent decisions arising from the collapse of Lehman Brothers Bank.
Examines the law on netting and set-off and the use of collateral in derivative trading.
Provides a detailed review of the law and regulation behind the market practice of dealing derivatives by telephone or electronic systems.
Presents a handy primer that equips you with a solid understanding of how derivatives products actually work.
Includes coverage of interest rate swaps, forward and futures, contracts for difference and spread bets, and warrants.
 
Contents:
Financial derivatives – A primer
Financial derivatives – legislation and regulation
Parties to derivative contracts and their capacity to contract;
The agreement of financial derivative contracts;
Collateral, netting and set-off;
An overview of risks associated with financial derivatives contracts;
Judicial decisions relating to derivatives contracts;
Exchange traded derivatives
Contact Us
Contact Us
LegalBooks.ie
Legal & General Shop
The Law Society Building
The Four Courts
Dublin 7
01 8725522
info@legalbooks.ie
D07 N972

VAT number: IE4814267p


Payment & Security
Your payment information is processed securely. We do not store credit card details nor have access to your credit card information.