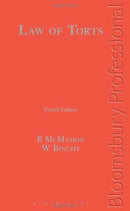 Description
Published: 30-06-2013
The eagerly awaited new edition of this title is the complete Irish tort law reference book and the contents have been extensively revised since the last edition was published in 2000. Key developments are detailed and relevant recent case law is examined. This book will be essential for both legal practitioners and people studying Irish law.

Recent important legislation examined in the book includes: Criminal Law (Defence and the Dwelling) Act 2011, Civil Law (Miscellaneous Provisions) Act 2011, Defamation Act 2009, Consumer Protection Act 2007, Civil Liability and Courts Act 2004 and Personal Injuries Assessment Board Act 2003.

Key developments and case law are examined in areas such as pure economic loss, limitations and purchase of financial products, vicarious liability for sexual assaults, damages, privacy, defamation, psychiatric injury, liability of public authorities, employers' liability, professional negligence, defective buildings and products and occupiers' liability.


Previous edition ISBN: 9781845928056
Table Of Contents
Overview of the Law of Torts;
Causation;
Remoteness;
Concurrent Wrongdoers: Joint and Several Tortfeasors;
Negligence;
The Duty of Care;
The Standard of Care;
Affirmative Duties;
Proof of Negligence;
Negligence and Economic Loss;
Manufacturers' and Producers' Liability for Defective Products;
Occupiers' Liability;
Liability of Vendors, Lessors and Builders for Quality and Fitness of Premises;
Professional Negligence;
Negligence on the Roads;
Negligent Care of Children;
Negligently Inflicted Psychiatric Damage;
Employers' Liability;
Public Authorities;
Defences;
Statutory Duties and Rights;
Trespass to the Person;
Trespass to Land;
Nuisance;
The Rule in Rylands v Fletcher;
Liability for Fire;
Liability for Injuries caused by Animals;
Trespass to Goods;
Detinue;
Conversion;
Passing Off;
Torts Affecting Business Relations;
Torts Affecting Family Relations;
Defamation;
Deceit and Injurious Falsehood;
Misuse of Process;
The Right to Privacy;
Liability of the State;
Corporations, Partnerships, Unincorporated Bodies and Trade Unions;
Minors and Mentally Ill Persons;
Survival of Actions on Death;
Fatal Injuries;
Vicarious Liability;
Damages;
Injunctions;
Limitations.
Contact Us
Contact Us
LegalBooks.ie
Legal & General Shop
The Law Society Building
The Four Courts
Dublin 7
01 8725522
info@legalbooks.ie
D07 N972

VAT number: IE4814267p


Payment & Security
Your payment information is processed securely. We do not store credit card details nor have access to your credit card information.