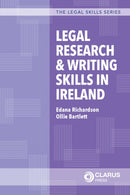 Description
Authors:  Dr Edana Richardson & Dr Ollie Bartlet
ISBN: 978-1-911611-48-6
Series: The Legal Skills Series
Format: Paperback
Published:  April  2021
Being a good law student or a good lawyer is about so much more than knowing the law. It is important to be able to find, analyse and articulate that law in a way that can be understood. Research and writing are, therefore, core legal skills that should be developed during, and well beyond, a law degree.
Legal Research and Writing Skills in Ireland offers an easy-to-use and accessible guide on the core legal skills of research and writing. While Legal Research and Writing Skills in Ireland is specifically tailored to developing these skills in an Irish context, much of the information included in this book will be of value to a reader outside of Ireland as well. Using worked examples and practical tips, this book guides the reader through the stages of undertaking a piece of legal writing. It does this in three parts. Part I condenses and clarifies the research process by discussing research planning and how to find sources of legal information. Part II delves into the writing process and offers advice and tips on good writing generally and effective legal writing specifically. It also includes guidance on how to cite your sources. Finally, Part III combines the skills discussed in Parts I and II and applies these to practical situations in which legal research and writing will be relevant. In doing so it discusses, and provides practical tips on, how to plan and write a dissertation proposal, how to tackle a written assignment, the elements and structure of effective emails and letters, and the written portion of a presentation.
TABLE OF CONTENTS
Chapter 1 – An Introduction to Legal Research and Writing 
Part I – The Research Process 
Chapter 2 – Planning your research 
Chapter 3 – Finding Information 
Part II –The Writing Process 
Chapter 4 – Effective (Legal) Writing – the Building Blocks 
Chapter 5 – Effective (Legal) Writing – Making the Right Impact 
Chapter 6 – Citations and Referencing 
Part III –Legal Research And Writing In Specific Situations 
Chapter 7 – Legal Research and Writing in Specific Situations
Who Should Buy This Book?
Legal Research and Writing Skills in Ireland is designed to be relevant to current and aspiring law students, as well as those in the early stages of their professional legal career. Each chapter builds upon the last but can also be referred to individually to address specific legal research or writing issues.
About the Authors
Dr Edana Richardson is a Lecturer/Associate Professor in Law at Maynooth University after having practised as a solicitor in London.
Dr Ollie Bartlett is a Lecturer/Associate Professor in Law at Maynooth University, where he teaches legal skills.
Contact Us
Contact Us
LegalBooks.ie
Legal & General Shop
The Law Society Building
The Four Courts
Dublin 7
01 8725522
info@legalbooks.ie
D07 N972

VAT number: IE4814267p


Payment & Security
Your payment information is processed securely. We do not store credit card details nor have access to your credit card information.