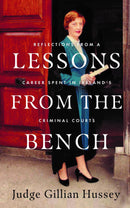 Description
SKU: 9780717192687
Author: Gillian Hussey
Publication Date: 8th Sep 2022
Format: Hardback


'Long before her retirement, Judge Gillian Hussey had been conferred with the status of "legend of the bench". This book gives a wonderful insight into the complex demands and balances that confronted her day in, day out. It's a fascinating and informative read that will hold your attention to the very end.' John Lonergan, author and former Governor of Mountjoy Prison
When Gillian Hussey started out in Bridewell District Court in 1984, little did she realise that she would deal with some of the most notorious criminals in Ireland, including the Kinahans, the Cahills, 'The Monk' and John Gilligan.
As one of Ireland's first female judges, Gillian was very much a woman in a man's world. Unafraid to look beyond the courtroom, she always sought to better understand the human – not just the criminal – who stood before her in the dock. Through her work, Gillian spent a lifetime learning about people, society and herself.
This fascinating insight into the career of a trailblazing woman reveals the inner workings of Ireland's criminal courts, explores the changes in Irish society and shares some timeless truths learned from almost 20 years on the bench
Contact Us
Contact Us
LegalBooks.ie
Legal & General Shop
The Law Society Building
The Four Courts
Dublin 7
01 8725522
info@legalbooks.ie
D07 N972

VAT number: IE4814267p


Payment & Security
Your payment information is processed securely. We do not store credit card details nor have access to your credit card information.