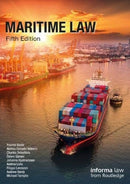 Description
Now in its fifth edition, this authoritative guide covers all of the core aspects of maritime law in one distinct volume. Maritime Law is written by a team of leading academics and practitioners, each expert in their own field. Together, they provide clear, concise and fully up-to-date coverage of topics ranging from bills of lading to arrest of ships, all written in an accessible and engaging style.

As English law is heavily relied on throughout the maritime world, this book is grounded in English law whilst continuing to analyse the key international conventions currently in force. Brand new coverage includes: The impact of the European Union (Withdrawal Agreement) Act 2020 which amends the European Union (Withdrawal) Act 2018. Over one hundred new cases from the English courts, the Court of Justice of the European Union and the International Tribunal for the Law of the Sea.

Changes to the Merchant Shipping (Registration of Ships) Regulations 1993, including the Merchant Shipping (Registration of Ships) (Amendment) (EU exit) Regulations 2019. Discussion of the Incoterms 2020 which are available for incorporation into sale contracts from 1 January 2020. Updates on litigation and amendments to the Admiralty Civil Procedure Rules.

This book is a comprehensive reference source for students, academics and legal practitioners worldwide, especially those new to maritime law or a particular field therein.
Contact Us
Contact Us
LegalBooks.ie
Legal & General Shop
The Law Society Building
The Four Courts
Dublin 7
01 8725522
info@legalbooks.ie
D07 N972

VAT number: IE4814267p


Payment & Security
Your payment information is processed securely. We do not store credit card details nor have access to your credit card information.