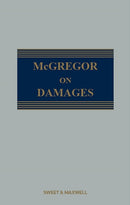 Description
Edited by: James Edelman, Simon Colton, Jason Varuhas
ISBN13: 9780414101975
Previous Edition ISBN: 9780414081482
Published: November 2021
Publisher: Sweet & Maxwell Ltd
Country of Publication: UK
Format: Hardback & Supplement
A primary reference tool on the general principles and the particular aspects of common law damages, McGregor on Damages is still the leading authority on damages and has been for over 50 years. Part of the Common Law Library McGregor on Damages provides in-depth and comprehensive coverage of the law, from detailed consideration of the general principles to a full analysis of specific areas of damages.
The 21st edition contains a number of significant new features:
•    Each and every chapter of the book's fifty chapters has been updated and many have been very substantially revised.
•    An entirely rewritten chapter on licence fee damages following the groundbreaking decision of the Supreme Court in Morris-Garner v One Step (Support) Ltd [2018] UKSC 20, [2019] AC 649. This detailed new chapter explains the circumstances in which this very important category of damages will be available after that decision.
•    Many revisions and updated chapters have been prompted by important new decisions. The rewritten chapter on causation, scope of duty and remoteness of damages, by itself, reflects new and important decisions of the Supreme Court and Privy Council such as Tiuta International Ltd v De Villiers Surveyors Ltd [2017] UKSC 77, [2017] 1 WLR 4627; Darnley v Croydon Health Services NHS Trust [2018] UKSC 50, [2019] AC 831; Perry v Raleys Solicitors [2019] 2 WLR 636; R (Hemmati) v Secretary of State for the Home Department [2019] UKSC 56, [2019] 3 W.L.R. 1156; and Attorney General of the Virgin Islands v Global Water Associates Ltd [2020] UKPC 18 as well as decisions of the Court of Appeal and High Court in MNX v Khan [2018] EWCA Civ 2609, [2019] EWCA Civ 152; Clay v TUI UK Ltd [2018] EWCA Civ 1177, [2018] 4 All ER 672; Duce v Worcestershire Acute Hospitals NHS Trust [2018] EWCA Civ 1307; Manchester Building Society v Grant Thornton UK LLP [2019] EWCA Civ 40, [2019] 1 W.L.R. 4610; ARB v IVF Hammersmith Ltd [2018] EWCA Civ 2803, [2020] QB 93; Phones4u Ltd (In admin) v EE Ltd [2018] EWHC 49 (Comm); Nautical Challenge Ltd v Evergreen Marine (UK) Ltd [2019] EWHC 163 (Admrlty), [2019] 1 Lloyd's Rep 543; Rihan v Ernst and Young Global [2020] EWHC 901 (QB); Leggett v Giambrone Law LLP (in liq) [2020] EWHC 724 (QB) and McAlpine Grant Ilco Ltd v AFR Refrigeration Ltd [2020] EWHC 106 (QB).
•    Expanded coverage of torts causing personal injury, torts causing death and assault and false imprisonment including important decisions such as Dryden v Johnson Matthey Plc [2018] UKSC 18, [2019] AC 403; R (on the application of Hemmati) v Secretary of State for the Home Department [2018] EWCA Civ 2122; [2019] QB 708; ARB v IVF Hammersmith [2018] EWCA Civ 2803; [2020] QB 93; Irani v Duchon [2018] EWCA Civ 2609; XX v Whittington Hospital NHS Trust [2020] UKSC 14, [2020] 2 WLR 972; and Khan v Meadows [2019] EWCA Civ 152, [2019] 4 WLR 26; Smith v Lancashire Teaching Hospitals NHS Foundation Trust [2017] EWCA Civ 1916, [2018] QB 804.
•    Further inclusion of money awards for equitable wrongdoing, both to compensate for losses and to disgorge a defendant's profits including for breach of trust, breach of confidence, and misuse of personal information.
•    Discussion and explanation of significant developments in the Supreme Court, Court of Appeal and High Court and in other common law jurisdictions in relation to damages for professional negligence, breach of privacy and misuse of private information, defamation, consequential loss clauses, pure economic loss, aggravated damages, vindicatory damages and many more.
Features List:
•    Provides comprehensive coverage of the law of damages, from detailed consideration of the general principles to specific heads of damages
•    Clarifies complex areas such as loss of a chance, mitigation, causation and exemplary damages
•    Examines such issues as periodical payments and interest on damages
•    Goes through statement of case, the trial and appeals
•    Considers damages in relation to particular contracts, tort and human rights such as below:
Contracts
•    Sale of Goods, Hire and Hire-purchase of Goods, Sale of Land, Contracts to Pay or to Lend Money, Contracts for Carriage and Contracts of Employment
Torts
•    Torts affecting Goods: Damages and Destruction, Misappropriation, Torts Affecting Land, Torts Causing Personal Injury, Torts Causing Death, Assault and False Imprisonment, Malicious Institution of Legal
•    Proceedings, Defamation, Economic Torts, Misrepresentation, Infringement of Privacy and Misfeasance in Public Office
Human Rights
•    Damages are sought through the courts to compensate someone who suffers loss, damage or injury caused by the action of others
Subjects:
Remedies and Damages, Common Law Library
Contents:
Chapter 1: THE MEANING OF DAMAGES AND COMPENSATION AT COMMON LAW AND IN EQUITY;
Chapter 2: THE OBJECT OF AN AWARD OF COMPENSATORY DAMAGES;
Chapter 3: THE TERMINOLOGY IN COMPENSATORY DAMAGES AND IN CONSEQUENTIAL LOSS CLAUSES;
Chapter 4: PECUNIARY LOSSES ;
Chapter 5: Non-Pecuniary Losses;
Chapter 6: THE GENERAL PROBLEM OF LIMITS;
Chapter 7: REDUCTION OF DAMAGES FOR CONTRIBUTORY NEGLIGENCE;
Chapter 8: CAUSATION OF DAMAGE, SCOPE OF DUTY, AND REMOTENESS OF DAMAGE;
Chapter 9: Mitigation of Damage;
Chapter 10: CERTAINTY OF DAMAGE, PRESUMPTIONS OF DAMAGE, AND LOSS OF CHANCE;
Chapter 11: Past and Prospective Damage;
Chapter 12: Nominal Damages;
Chapter 13: Exemplary Damages;
Chapter 14: LICENCE FEE (NEGOTIATING AND USER) DAMAGES;
Chapter 15: Account and Disgorgement of Profits;
Chapter 16: Liquidated Damages and Penalties;
Chapter 17: Vindicatory Damages;
Chapter 18: The Incidence of Taxation;
Chapter 19: The Awarding of Interest;
Chapter 20: The Effect of Changes in Value;
Chapter 21: COSTS, DAMAGES AND FINES IN PREVIOUS PROCEEDINGS;
Chapter 22: Breach of Undertakings as to Damages;
Chapter 23: Damages in Actions Surviving Death;
Chapter 24: The Measure of Damages in Contract and Tort Compared;
Chapter 25: Sale of Goods;
Chapter 26: Hire and Hire-Purchase of Goods;
Chapter 27: Sale of Land;
Chapter 28: Lease of Land;
Chapter 29: Sale of Shares and Loan of Stock;
Chapter 30: Contracts to Pay or to Lend Money;
Chapter 31: Construction Contracts;
Chapter 32: Contracts of Carriage;
Chapter 33: Contracts of Employment;
Chapter 34: Contracts for Professional and Other Services;
Chapter 35: Contracts Concerning Principal and Agent;
Chapter 36: Contracts of Warranty of Authority by Agent;
Chapter 37: Torts Affecting Goods: Damage and Destruction;
Chapter 38: Torts Affecting Goods: Misappropriation;
Chapter 39: Torts Affecting Land;
Chapter 40: Torts Causing Personal Injury;
Chapter 41: Torts Causing Death;
Chapter 42: Assault and False Imprisonment;
Chapter 43: Statutory Torts: Discrimination and Harassment;
Chapter 44: Malicious Institution of Legal Proceedings;
Chapter 45: Misfeasance in Public Office;
Chapter 46: Defamation;
Chapter 47: PRIVACY, CONFIDENCE AND PRIVATE INFORMATION;
Chapter 48: Economic Torts and Intellectual Property Wrongs;
Chapter 49: Misrepresentation;
Chapter 50: Damages Under the Human Rights Act;
Chapter 51: PRE-ACTION CONDUCT, THE STATEMENT OF CASE AND CASE MANAGEMENT TO TRIAL;
Chapter 52: The Trial;
Chapter 53: Appeals
Contact Us
Contact Us
LegalBooks.ie
Legal & General Shop
The Law Society Building
The Four Courts
Dublin 7
01 8725522
info@legalbooks.ie
D07 N972

VAT number: IE4814267p


Payment & Security
Your payment information is processed securely. We do not store credit card details nor have access to your credit card information.