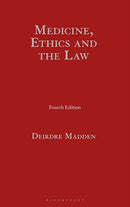 Description
Madden. Deirdre
ISBN13: 9781526524140
Previous Edition ISBN: 9781780439150
To be Published: Sep 2023
Format: Hardback
This book examines the relationship between medicine, ethics and the law in Ireland. It provides a comprehensive and accessible analysis of the main legal and ethics and issues in healthcare and the relationship between doctors and patients by examining the relevant case law and legislative provisions in Ireland and, where appropriate, in other jurisdictions, and by looking at important academic contributions to the field.
It explores the key issues of the importance of patient-centred care, respect for autonomy and human dignity, the protection of human rights, and the appropriate role of law in healthcare.
Three new chapters have been added to this fourth edition covering the following:
management of adverse events/clinical negligence (periodic payment orders)
termination of pregnancy (Health (Regulation of Termination of Pregnancy) Act 2018), and
public health and pandemics (issues brought to light in the recent COVID pandemic)
Subjects:
Irish Law
Contents:
Chapter 1 Provision of Healthcare in Ireland
Chapter 2 Regulation of Medical Practice in Ireland
Chapter 3 Protection of Personal Health Information
Chapter 4 Reproductive Medicine
Chapter 5 Genetic Medicine
Chapter 6 Capacity and Assisted Decision-Making
Chapter 7 Consent and Refusal of Treatment
Chapter 8 Medical Treatment of Children and Minors
Chapter 9 Medical Treatment at the End of Life
Chapter 10 Property in the Human Body
Chapter 11 Medical Research
Contact Us
Contact Us
LegalBooks.ie
Legal & General Shop
The Law Society Building
The Four Courts
Dublin 7
01 8725522
info@legalbooks.ie
D07 N972

VAT number: IE4814267p


Payment & Security
Your payment information is processed securely. We do not store credit card details nor have access to your credit card information.