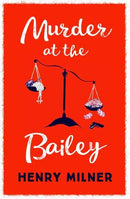 Description
PUB DATE: 16 November 2021
ISBN: 9781785907043
EXTENT: 368pp
CATEGORY: Fiction, Crime & Mystery
A gloriously entertaining debut novel from one of Britain's top criminal lawyers.
"A pacy, witty, riveting tour de force" Wensley Clarkson
A notorious loan shark is shot dead, in broad daylight, right outside the front doors of the Old Bailey. The killer is arrested at the scene and Adrian Stanford is lined up to take on the toughest defence case of his career. Can he steer his client past the no-nonsense Detective Chief Superintendent 'Iron-Rod' Stokes, hell-bent on achieving a murder conviction in his last case before retirement? That's assuming he can keep his client alive in prison long enough for the trial to go ahead.
Can his illustrious defence QC, Patrick 'The Edge' Gorman, swerve the case past the acerbic judge known to all as Mack the Knife, whose own resolve is being tested to the limit by an adulterous wife? And why is London underworld numero uno Big Jake Davenport showing such a keen interest in the proceedings?
A wickedly eccentric cast of brilliantly drawn characters populate this daring debut from one of Britain's top criminal defence lawyers. Dripping with sparkling dialogue and delicious wit, Murder at the Bailey is a masterly picaresque romp through the courtrooms, custody suites and London restaurants graced by the cognoscenti.
• Brilliantly funny debut novel from one of Britain's top criminal lawyers.
• Perfect for fans of John Mortimer, Caimh McDonnell and Richard Osman.
• Praise for Milner's memoir No Lawyers in Heaven:'In a highly readable style with plenty of wry self-
deprecating humour, Milner gives a compelling insight into a life defending some of the big-league criminal names. A must-read.' The Times 'A fascinating read as a top-class criminal defence lawyer tells the story of his top-class clients and their top-class crimes'. James Morton author of Krays: The Final Word
'A no-holds-barred exposé.' Andy McNab
'An entertaining and revealing insight into the world of the criminal defence lawyer – and the inside stories behind some of the Old Bailey's most famous cases.' Duncan Campbell, author of Underworld: The definitive history of Britain's organised crime Henry Milner has been one of the UK's top criminal defence solicitors for more than forty years, during which time he has defended some of the most infamous names in recent criminal history. He founded Henry Milner & Company Solicitors, which is described by Chambers and Partners as a 'Rolls-Royce outfit'.
Contact Us
Contact Us
LegalBooks.ie
Legal & General Shop
The Law Society Building
The Four Courts
Dublin 7
01 8725522
info@legalbooks.ie
D07 N972

VAT number: IE4814267p


Payment & Security
Your payment information is processed securely. We do not store credit card details nor have access to your credit card information.